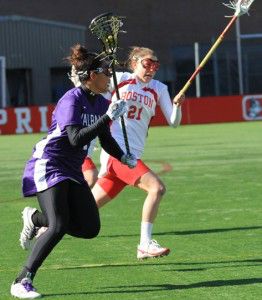 Behind the strength of a season-high 20 goals and nine players recording at least one point, the Boston University women's lacrosse team defeated the University of Vermont by a score of 20-17 Saturday afternoon in Burlington, Vt.
The victory was the team's first road win of the season, as well as the Terriers' (4-6, 1-2 America East) first America East victory.
BU coach Liz Robertshaw said the contest put her team's mental toughness on display, as the Terriers were down by as much as eight goals at one point in the game.
"It was an interesting game to coach. I can't say that I've been down 10-2 before and come back to win," Robertshaw said. "I thought it showed a lot of fight from this team. They really rallied together and made some adjustments in order to get some goals and make great defensive stops."
The Terriers got on the board quickly, as sophomore attack Lindsay Weiner scored to give BU a 1-0 lead just 43 seconds into the game. The Catamounts (6-8, 1-3 America East) responded, scoring three straight goals to grab a 3-1 lead.
Junior attack Elizabeth Morse scored with 20 minutes remaining in the first half to cut the deficit down to one, but Vermont answered with a seven-goal run over seven minutes to take a commanding 10-2 lead with 12 minutes remaining in the half.
During the Catamounts' run, Robertshaw called a timeout to settle down her players and get them refocused on the job at hand.
"I told them that they need to make a change right now," Robertshaw said. "We needed to slow down Vermont's fast break and really stick to our game plan … we moved [freshman midfielder] Jill Horka to the draw, and she did a fantastic job winning the draw controls and getting it to [junior midfielder] Sydney Godett and [senior attack] Danielle Etrasco.
"They just had to do the simple things of taking it to cage and taking shots, and they did that, and I think they realized that when they do those things, they are quite successful."
The timeout came at the right time, as the Terriers went on an 8-1 run to cut the deficit back down to one, 11-10, as the first half came to a close.
The second half began as a back-and-forth affair, as both teams traded goals over the first 11 minutes of the frame, until a 4-0 run by the Terriers allowed them to take a 16-13 lead with 11 minutes remaining.
While both teams continued to exchange goals over the last minutes of play, the Catamounts could not respond to the Terriers' run and ultimately fell, 20-17.
The Terriers finished the game holding a 22-16 advantage in draw controls, while the Catamounts edged out BU in ground balls by a margin of 24-14. Both teams finished the game with 37 shots.
Junior goalkeeper Christina Sheridan recovered from a shaky start to finish the game with nine saves.
"A lot of credit has to go to Sheridan," Robertshaw said. "She had a little bit of a rocky first half, I think she was a little jumpy, but then she came back and made some huge plays and big saves."
Etrasco was once again the spark plug for the Terrier offense, as she led the team with seven goals. Weiner also had a huge day, finishing with six points, including a career-high four assists.
The last time BU scored 20 goals in a game was April 29, 2006, when the Terriers defeated the University of New Hampshire, 20-5.
While many players contributed to the score sheet, Robertshaw said she thinks it was Etrasco's impact on both the action and her teammates that helped jumpstart the Terrier attack.
"We really got started off with Danielle," Robertshaw said. "I told her that she needs to lead this team and she knows it, but by her being on and encouraging everybody else to keep shooting, it shows everyone that we need to get as many goals as possible.
"[Etrasco] had five [goals] in the first half and I challenged her to get 10, and the entire team heard it. And I also said to them that they better be going for 10 too, and I think they did a really good job of responding to that. We need to keep that collective style of attack going as we get into Binghamton [University] and as we finish up the final six games of the season."