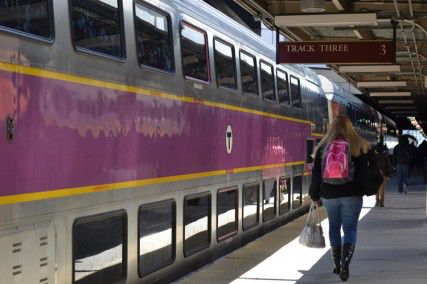 Massachusetts state transportation officials announced Tuesday they would be providing a summer weekend train service connecting Boston and Cape Cod.
The train, known as the CapeFLYER, will run from Memorial Day to Labor Day and aims to cut down on traffic to the Cape. The trip itself will take a little more than two hours, according to Massachusetts Bay Transportation Auhority officials.
Kelly Smith, a spokeswoman for the MBTA said the train has been sought after for years.
"There has been a demand for it, but it also makes sense as traffic problems are well known when it comes to traveling to the Cape," she said. "But still it will be a limited service."
Smith said experts expect the fares will help generate much-needed profit.
"The train will also promote an environmentally friendly and economic alternative for travel to the Cape," she said.
The Cape Flyer will run Saturdays and Sundays only, with the first train departing at 8 a.m. and return trips leaving from Hyannis until 6:30 p.m. Tickets will cost $35 for a round trip.
CEO of the Cape Cod Chamber of Commerce, Wendy Northcross, said the tourism-dependent businesses in the Cape are looking forward to the train being put to use.
"We're very excited," she said. "It has been 25 years since we have had a rail. There is no question tourism will be enhanced."
The train can hold up to 1,000 passengers and provides space for bikes as well as a dining car, Northcross said.
"It will take as long as by car," Northcross said. "But you can be enjoying the view and you can have food and drink."
Northcross said she hopes a successful rail service this summer will lead to further transportation service to the Cape.
"Someday down the road I would like to see daily service from Boston all year round," she said. Tom Cahir, of the Cape Cod Regional Transit Authority, said the train would be a great option for many travelers.
"There is another option to get people to the cape without their cars," he said. "We have a track that the state already owns, and the track is here and in good shape. So any time we can get people to Cape Cod, particularly without their cars in the summer months, we are very optimistic it will be successful."
Anna Clarke, 63, of Marlborough, said she was very excited about the train.
"Taking the grandkids to the Cape and getting stuck in the car with them for several hours is so hard," she said. "Now the train will give a set time and it will be so much easier."
Calvin Lofgrin, 42, a resident of Brookline said he moved to Massachusetts four years ago and had been unwilling to battle Cape traffic in previous years.
"I have never been before," he said. "But now, my wife and I might consider going for a weekend if it is going to be so much easier to get there."
Olivia Lee, 30, a Boston resident said weekend trips to the Cape would now be much easier for her and her friends.
"Thinking about parking and battling traffic was always such a hassle," she said. "Now this will be much less stressful and more cost efficient."