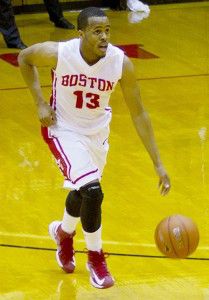 About two weeks after the conclusion of the 2012-13 season, Boston University men's basketball coach Joe Jones mentioned the Miami Heat in the same breath as his own team.
"Being a superior athlete is about what you do in those really difficult moments," Jones said. "Trust me, I'm not comparing us to … the Heat. But it's what they had to go through in order to be great. It's what LeBron [James] had to endure in order to get to where he had to go. There was some losing. There were setbacks. You have to learn how to get over those things as an athlete.
"That's where we are. We're at a stage where we've had some disappointments. We've had some setbacks. We've had some success. Now can we take that next step? That's the exciting part."
Even before the tipoff of its season opener against Northeastern University in November, BU (17-13, 11-5 America East) faced immediate challenges.
In July, BU was banned from competing in the 2013 America East Conference tournament in response to the Terriers' switching over to the Patriot League for the 2013-14 season, taking away the opportunity for an automatic NCAA Tournament bid.
When word leaked out about the ban, forward Jake O'Brien, presumably one of the Terriers' captains in the 2012-13 season, was "shocked, surprised and frustrated with the [league's] decision," according to Jones. O'Brien decided to transfer to Temple University, and BU lost a former America East Rookie of the Year and double-digit scorer.
Although Jones said O'Brien was reluctant to leave, he turned O'Brien's disappointing departure into a positive.
"Jake leaving really gave us a chance to give other guys more responsibility," Jones said. "That might have been as big as the decision for us to change conferences.
"That was a big impact because what it did in a real positive way, was that it forced guys to step into roles that they hadn't been in, but also roles that they were going to have to be in a year from now."
Entering his second year as BU's bench boss, without seniors on scholarship, Jones said the Terriers understood they had a two-year run in them with the same group of players. As a result, they went about their business on the basketball court accordingly.
"It was a very different environment right away," Jones said. "I thought the junior class learned some valuable things from the year before and they brought that to the table right away. Their ability to buy in to what we were saying was much higher right away."
BU's willingness to buy into Jones' system was most evident in junior captain forward Dom Morris. This past offseason, Morris worked on his conditioning and changed his diet, and the results were tremendous, as he posted career highs of 11.6 points and 6.4 rebounds per game.
One of the major changes Jones and his staff instituted before the year was the creation of a mission statement, which highlighted the Terriers' core values and provided the team with a clear vision of what it aspired to be.
"We talk about loyalty," Jones said. "Loyalty to your family, your school, the program, your teammates, the coaches. We talk about effort. Giving effort in the classroom and on the court.
"And we talk about accountability. Holding yourself accountable in the classroom, in the community, on the court. We want to be a program that others are measured by."
Jones said he stressed unselfish basketball, with the offense spearheaded by lightning-quick point guards in junior captain D.J. Irving and freshman Maurice Watson Jr. He thought the team's best chance to win would come by sharing the basketball and taking higher quality shots.
But the Terriers stumbled from the get-go, dropping three of their first nine games, including losses to Northeastern University, Rutgers University, George Mason University and Harvard University by a total of just seven points.
"Even early on … it was more of our defensive deficiencies that hurt us," Jones said. "We couldn't get a big stop at Northeastern, Harvard or George Mason. One stop away from winning those three games."
Through the non-conference portion of the schedule, Jones was supplied with an assessment of his team's general strengths and weaknesses heading into conference play.
"When you're putting together your non-conference schedule, you want to challenge your guys," Jones said. "You want to have a pretty good report card of what you think your deficiencies are, what do you do well, what do you not do so well, what are some things that you need to tweak.
"You need to get a good feel and that only happens if you play a pretty competitive schedule."
Despite an 0-2 start to conference play, the Terriers' spirits were not curtailed, as they recorded "character" wins against the University of Vermont without two starters and an 85-80 overtime victory at the University at Albany, where Irving nailed back-to-back threes in the final nine seconds of regulation to force the extra session.
BU closed the regular season by winning nine of its final 11 games, and, as Jones predicted during his postgame press conference after the last game of the regular season, the Terriers did earn a postseason bid to the CollegeInsider.com Postseason Tournament, where they fell in the first round, 70-63, to Loyola University-Maryland, a future conference foe.
The Terriers return their full roster as they wait for their highly anticipated debut in the Patriot League.
Jones said the goal for next year will be having his team prepared for the challenges of its new conference.
"It's a very well-coached league from top to bottom," Jones said. "The big thing is going to be our ability to be mentally and physically tough over 40 minutes in league play … We're going to have to put our guys through that in the offseason to make ourselves tougher and stronger in those areas."