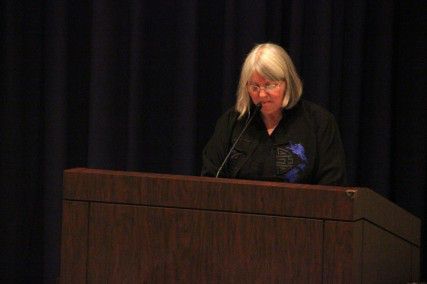 More than 60 local, professional and emerging poets read their work Saturday at the Boston Public Library as part of the 13th annual Boston National Poetry Month Festival.
"We started the festival because there wasn't any poetry festival in the area, and I figured that it was time to start one," said Harris Gardner, co-founder and organizer of the event. "It's a great opportunity to hear some of the best professional and emerging poets in Boston."
The festival included keynote speakers such as Dan Tobin and David Ferry as well as local poets from high schools and universities across Boston. Some poets at the festival said Boston is usually not known for its poetry, and the people that come here make the scene better.
"We come here," said C.D. Collins, a Boston poet and speaker at the festival. "Boston doesn't produce anymore. It's a cold, old, mean place, but it's a center for poetry. We come here."
Because of its many academic poets, Collins said Boston sometimes produces lifeless poetry.
"Because of that [the abundance of colleges] there's a lot of stuff being churned out, so I listen for people who are going beyond the clichés," she said. "I want to hear the fresh beautiful voice, and sometimes academic poetry can be a little bloodless, if not well written. Sometimes non-academic poetry is bloody and gutsy, but it's alive."
Gardner said while a lot of poetry comes from the academic scene, there are many opportunities for non-academic poets to have their voices heard. "A lot of Boston's poetry is in academia, and so there's a lot of good stuff that comes out of Emerson and Suffolk University and Boston University," he said. "But there are definitely a lot of venues in the Boston area for poetry, like the Blacksmith House and the Lizard Lounge."
A number of other poets said Boston's poetry scene is alive and growing.
"There's a lot of poetry happening in Boston, but a lot of it is very traditional and not this sort of very snappy hip-hop style that you find in places like Chicago and New York," said Jay Schwartz, president of BU Speak for Yourself, a poetry collective.
Schwartz, a College of Communication junior, said poetic work continues to be a presence in the area and will continue to improve.
"The Boston poetry scene is definitely on the up," he said. "There is literally something to do every night involving poetry in Boston".
Many people at the festival said they enjoyed the readings, even if they had little connection to poetry.
"This was actually my first poetry reading," said Ashley Iannacone, a sophomore at Emmanuel College. "It was pretty cool. To be honest I've been in a slight funk and so it was helpful hearing other's stories."
Wendy Chiu, 31, a corporate restaurant worker in Boston, said she was not aware of the festival before, but decided to go when she saw it taking place.
"I enjoyed the event, but I was a little disappointed that the speaking style wasn't very lively," she said. "Many of the things they said were very beautiful, but it felt a little boring because of the speaking style."
Yiran Buckley, a senior at Boston Latin School, said she liked the poetry because it was basic and relatable.
"I was here earlier this morning because my friend was one of the students that was reading at the festival," she said. "But I decided to come back because I enjoyed the poetry."