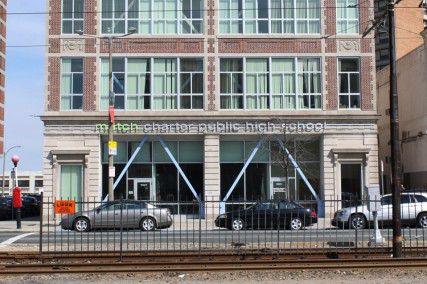 While not directly affiliated with Boston University, the Match Public Charter High School, much like T. Anthony's or the CITGO sign, is something of a landmark for BU students.
The Match School, which is located at the Babcock Street Massachusetts Bay Transit Authority station, is a Match Education high school. Match students, most of whom come from low-income minority families, are enrolled at the school through a blind lottery system. The students, along with having a full course load, students receiveparticipate in a tutoring program called Match Corps.
Many college graduates work as tutors in the Match Corps program to gain teaching experience for their future careers in education.
BU students gain teaching experience
Match Corps does not just offer its students a better foundation for their schooling. Match also provides a solid educational base for graduates who want to pursue a teaching career.
Gaby Diller, a 2012 BU graduate from the College of Arts and Sciences, works with Match Corps. As a student, Diller said that Match was somewhat of a mystery to her, but after graduation, she found it was a good start to a career in teaching.
"After I discovered my passion for education and working to close the achievement gap, I realized Match offered an incomparable teacher training program, and it was an opportunity that I couldn't pass," Diller said. "It just happened to be a coincidence that one of the best teacher training programs in Boston was a block away from where I lived for four years."
Diller said tutors in the Match Corps program work Monday through Friday along with completing other responsibilities for one year. Some of these Match Corps tutors are also in Match Teacher Residencies.
Match Teacher Residencies work with Match Corps through tutoring in addition to taking courses that center around teaching. Later, they move on to teaching full-time at a "no excuses charter school." After passing two years of the residency, student-teachers are then eligible for a Masters in Effective Teaching.
Diller said she would complete the Corps at the end of July and graduate as part of the Match Teacher Residency in July of 2014.
"[This experience] is meaningful and more than essential to the development of my career in education," Diller said.
Diller said her positive experiences are not just when she knows her students have succeeded, but when the students realize they have succeeded.
"We have built a community that fosters patience, compassion, dedication and way too much fun," Diller said. "We have not only become friends and colleagues, but we have become family."
Diller said she did an activity with her students to practice goal setting and reflection. She had the students discuss their goals in a group and then give shout-outs to their fellow students in an effort to praise and inspire each other.
"One of my students shouted me out and thanked me for my patience and love," Diller said. "At that moment, I knew I was more than just a tutor and teacher, but a mentor. I realized I had the ability to be a positive force in their lives to foster not only academic success, but also an appreciation for learning."
Diller said next year she will work as a high school English Special Educator at Boston Preparatory Charter Public High School.
"I work with a few students with learning disabilities and my one-on-one time with those students has had a huge impact on my life," Diller said. "To be able to give those students the extra support they need to be successful has shown me that each individual student is capable of excellence. I realized that with patience, compassion and individualized planning catered to students' needs, every student can be successful and reach their goals."
Match Corps administration
Recruitment manager of Match Education Sara Parr has been working with Match for two years. Parr said she tutored in the Match Corps program last year.
"The Match Corps absolutely provides great opportunities for recent graduates," Parr said. "It's an excellent stepping stone for somebody interested in transitioning into a career in education, public policy, or the nonprofit sector; for individuals hoping to go on to graduate or professional school, the Match Corps is a truly unique gap-year program that allows for professional development while serving high-need students."
The majority of the people who enter Match Corps are recent college graduates, Parr said. With the Match Public Charter High School so close to the BU campus and community, it is not a surprise that so many of these graduates come out of BU.
"We certainly see a number of BU alumni in the Corps and we have great brand recognition at BU since Match is right on West Campus," Parr said.
Parr said the supportive environment within the school is something that setsMatch apart from other tutoring opportunities.
"As a tutor, you work with the same students for the whole year," Parr said. "You build incredibly close relationships because you're with them for all failures and successes."
Parr said the biggest success often comes at the end of the program, when the little victories pay off and a student passes a particularly challenging class. These small gains make significant groundwork for a student who wants to move to the next grade and some day graduate.
Parr said the Match Corps program benefits the tutors as it much as it benefits its students.
"Match Corps is a good 'match' for the tutors and their students because it allows the tutors to gain on-the-ground experience in public service and education while allowing the students to have one-on-one attention from an educator every single day," Parr said.
BU students consider the possibility
Dorothy Ovalles, a CAS senior, is minoring in Education and said a teaching position with Match Corps would be a tough because of its hours, but likely a worthy experience nonetheless.
"I like the possibility of gaining experience in an urban setting," Ovalles said.  "With the Match Corps Teaching Residency, I really like the possibility of getting a Master's degree alongside real classroom experience."
College of Communication senior Katy Meyer said the program's ability to provide a dual benefit makes Match Corps especially appealing.
"Tutoring is invaluable for students because it gives them the one-on-one help they might need to really understand something," Meyer said."It's invaluable for the tutor because it gives them experience for teaching (if they want to be a teacher). It also teaches the tutors how to explain things in an easy-to-understand way, which can be a useful skill for anything in life."
Match is not only a program that provides a basis for education, but also one that fosters a sense of understanding as to how people can connect and build success in a mutually beneficial partnership.