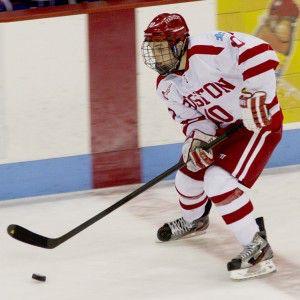 Jack Parker's last season as the Boston University men's hockey coach will be remembered for that reason alone. It will also be recalled as a hard season to figure: The Terriers, despite their youth, played a strong first half, a nearly perfect month of March wand a six-week stretch between those two that doomed their year.
"If you told me at the beginning of the year we would have gone to the Hockey East championship game, with as young a team as we had, I would have said that's a pretty good year," Parker said. "But not the way it unfolded. The bookends were pretty good. The six-week span in January was the 'blah.'"
BU (21-16-2, 15-10-2 Hockey East) began the season dressing nine freshmen regularly. The team later lost center Wesley Myron to the ECHL, but nearly every other rookie made significant contributions in the end. With the amount of playing time they got, they had no other choice.
Freshman Danny O'Regan proved himself a top-six center and led the team with 38 points. Freshman defenseman Matt Grzelcyk finished with 23 points, third among all Hockey East defensemen. In net, both freshmen Sean Maguire and Matt O'Connor played well enough to start alternating games all year, until O'Connor suffered a collapsed lung near the end of the season.
"I remember thinking that we had to have either [sophomore center Cason] Hohmann or [Yasin] Cissé make a big jump from the year before, and we had to have either Myron or Danny O'Regan play on the first two line centers," Parker said. "As it turns out, Hohmann made a big jump and O'Regan played great."
Between the freshmen jumping in and older players, including Hohmann and senior captain Wade Megan, starting off hot, BU went 10-5 in the first semester against the nation's toughest schedule. It faced Boston College and the University of New Hampshire three times and the University of North Dakota twice, beating each once.
Ahead lay four games with last-place Northeastern University, as well as two each with the struggling University of Vermont and Maine teams. No Hockey East game was easy, but the second semester afforded BU a wealth of opportunities to stay high in the national rankings. That promising slate got off to an ugly start Dec. 29 in Denver. Not only did BU lose 6-0 to a University of Denver team on the skids, it also took 56 penalty minutes, catapulting itself from fourth to first in the league in penalty minutes per game. Junior defenseman Patrick MacGregor and sophomore defenseman Alexx Privitera took game misconducts, and junior defenseman Garrett Noonan narrowly escaped another.
The Terriers went 3-4-1 between the Denver game and Feb. 4, when they met Northeastern (9-21-4, 5-18-4 Hockey East) in the Beanpot semifinals. Northeastern rookie standout Kevin Roy outscored a flat BU team by himself with a hat trick in the 3-2 Northeastern win.
Then, discouraged and reeling, the Terriers lost 7-4 to Harvard University in the Beanpot consolation game. A loss to Harvard in that same game cost BU an at-large bid in the national tournament two years earlier, but that memory was not enough to spur it to victory over the Crimson (10-19-3).
"I think the team got bogged down with some internal problems that I still don't know exactly what they were," Parker said. "They were in the dressing room. They were chemistry problems more than anything else, and it really took away from their efforts on the ice as a team.
"And then, when we finally addressed it by making them address it, it turned around again. So shame on me for not knowing earlier and making them address it earlier … I don't think it was anything drastic, but it was something that had to be talked about out in the open."
Parker said Megan, along with some other upperclassmen, spoke to the team in mid-February, when a sub-.500 finish seemed possible.
"I think he, along with other guys on the [leadership] council, went down to that dressing room and had a great team meeting," Parker said. "It wasn't by accident that it was the first time in a while we looked like a real enthusiastic team when we went to Maine that weekend."
BU wasn't perfect in Maine on Feb. 15 and 16, but it took three out of four points, the final one coming when junior forward Matt Nieto scored with four seconds left in overtime for a dramatic 5-4 win. The Terriers then went 4-1 in their last five games, including two wins over the Northeastern team that had been a frustrating thorn in their side.
A significant amount of credit for BU's late run goes to its so-called second line: Nieto, O'Regan and sophomore Evan Rodrigues, who combined for 51 points in BU's last 15 games.
Nieto lived up to his reputation as a second-half standout, recording nine of his 18 goals in the last nine games. O'Regan remained a consistent playmaker with a finishing touch of his own. And Parker took to calling Rodrigues the team MVP as the sophomore gained the confidence to play the creative offensive game that comes naturally to him.
"There's no question in my mind he's getting better and better as the season progressed, and he'll be a terrific player in this league next year," Parker said of Rodrigues. "He's an All-American type of player in this league."
As February gave way to March, though, Maguire stood out most. When O'Connor was hospitalized with a collapsed lung, Maguire took over the starting job without a hitch — save for a 5-2 loss to Vermont, in which he still stopped 33 shots.
In BU's last eight games, Maguire faced 30 or more shots six times. He faced 35 or more four times. The more pucks he saw, the sharper he seemed, and that was nowhere more evident than in the Hockey East semifinals against BC (22-12-4, 15-9-3 Hockey East).
For 30 minutes, the game was almost laughably unbalanced in the Eagles' favor. Yet Maguire let in only two goals on 31 shots in the first two periods, one of which changed direction off a defenseman's stick right in front of him.
Maybe the Terriers realized a one-sided loss to BC would be an unfortunate ending to Parker's career, or maybe they just realized they could could chip the puck past BC's aggressive defensemen to start odd-man rushes. Whatever the reason, once Rodrigues scored halfway through the second period, BU took over, scoring four goals in 10 minutes and burying the Eagles, 6-3.
"We're not going to let [Parker] lose to BC at the Garden in his last game," O'Regan said after the win, then blushed as Parker laughed and said, "Much appreciated, Danny."
The next night, BU ran into the University of Massachusetts-Lowell, who eventually made it to the Frozen Four. Maguire preserved a 0-0 tie for 51 minutes, and the Terriers exerted far more pressure on Lowell (28-11-2, 16-9-2 Hockey East) than they did in any of their earlier meetings.
In the end, though, they could not beat freshman goalie Connor Hellebuyck, and a second-chance goal from Derek Arnold with nine minutes to go ended BU's season with a 1-0 loss.
Now David Quinn, not Parker, will lead BU into the 2013-14 campaign. He will have the benefit of Noonan, who elected not to leave for the pros, returning for his senior season on the blue line, as well as a group of talented but young freshmen becoming sophomores. For Parker, who still occasionally refers to the team as "we," the change still has not quite sunk in.
"I'm doing the exact same stuff I ordinarily would be doing at this time of year with the team … handling dormitories, grades, tutors and all that kind of stuff, workouts," Parker said. "Other than that?" He paused. "I'm no longer the BU hockey coach."