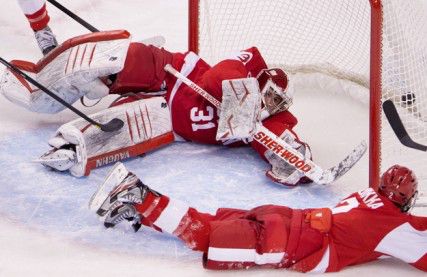 For all but the luckiest hockey teams, goaltending is often a question. The Boston University men's team found an unconventional answer this year, using freshmen Sean Maguire and Matt O'Connor as complementary pieces in net for most of the season.
While resolution in the form of a clear No. 1 goalie never came, both were good enough that rotating them was logical. BU goaltending coach Mike Geragosian said he thinks the competition was also the best way for both to develop, each pushing the other to stay sharp.
"I don't think it's a [Kieran] Millan-[Grant] Rollheiser roommate situation," Geragosian said. "I think there's mutual respect for each other, but there's also mutual compete, that, 'Hey, if you don't play well, I'm going to play well.'
"And that's what's great about these two. They're only going to get better because of that drive, versus, 'Oh, I'm happy not playing.'"
Maguire eventually started 21 games to O'Connor's 18 because O'Connor was out for the season after being hospitalized in early March with a collapsed lung. O'Connor made 10 of BU's first 15 starts as Maguire worked out some early kinks, but they split time from January through the end of February.
By the numbers, each played better when starting every game, or at least the majority of the games. Between Oct. 26 and Dec. 6, when O'Connor started all but three of BU's 12 games, he had a .924 save percentage, compared to .910 on the year.
The change was even more extreme in Maguire's case. When O'Connor was scratched from his scheduled start on March 2, Maguire started consecutive games for only the second time all year. He then started the next six, putting up a .957 save percentage in those eight games, including four in the postseason, to bring his overall save percentage up to .926 on the year.
Those numbers are not everything — Maguire's late run was the product of improvements he made all year, and it would have been tough to maintain the success O'Connor had early over an entire year, regardless of how often he played. But they do illustrate the balancing act involved in developing two successful goalies.
Usually, when goalies compete, one separates himself before long, as happened at the University of Massachusetts-Lowell this year. Freshman Connor Hellebuyck and sophomore Doug Carr split time in the middle of the season, but Hellebuyck soon won the starting job for good.
However, as BU coach Jack Parker was quick to point out before the season, sharing the job did not hurt Jim Craig and Brian Durocher on BU's 1978 national championship team.
O'Connor said while he prefers to start consistently, he did not notice a major difference between starting every game and alternating.
"Sometimes, if you're out of it, you get a bit more jitters, but I find I play better with that," O'Connor said. "So I don't really think it's necessarily too much of a difference."
Geragosian said because both goalies needed some technical work when they arrived at BU (21-16-2, 15-10-2 Hockey East), having them compete was better for both than just handing the starting job to one.
O'Connor was able to work on being more compact, using his 6-foot-5 frame to his advantage rather than opening up holes for shooters. Maguire could focus on positioning and closing down the five-hole, where he allowed some rebound goals early in the year. However, there are downsides to only playing one night a week.
"The cons are that some of these goaltenders need game development," Geragosian said. "Playing lots of games, you learn by your mistakes, so we tried to compensate by creating those game situations in practice."
This year, both Maguire and O'Connor bore the title of "freshman goalie," but they came to BU at different points in their lives. O'Connor, a rare-for-BU 20-year-old rookie, played his last two seasons in Youngstown, Ohio, for the USHL Youngstown Phantoms, far from his home in Toronto.
Meanwhile, Maguire, a year younger, had stayed close to his home in Powell River, British Columbia, a town of about 19,000 people 108 miles northwest of Vancouver. His junior experience came with the Powell River Kings of the BCHL. Geragosian said it took Maguire longer to adjust to playing on a bigger stage, which may have contributed to his slower start.
"Sean was a little overwhelmed with the city," Geragosian said. "He came from a very small town in British Columbia, and I think coming into Boston was just a big, big, big enlightening for him … All of a sudden, you've got 15,000 people watching your games. Wow, you know?"
Both O'Connor and Maguire said competing for a potential starting job helped them stay focused on improving.
"When we're playing little games in practice, I obviously always want to win," Maguire said. "It just gives me that little extra edge. I'm a really competitive guy and I think he is too, so it really just is two positives, us both working against each other and for each other."
"Maguire pushes me a lot in conditioning, in the gym," O'Connor said. "He really battles hard, so it's nice to have that extra push."
Although both would be starters in their ideal worlds, both say there is nothing but friendly competition between them.
"There really isn't any animosity or any kind of confrontational tension or anything," O'Connor said. "We're really nice to each other. I don't think we've ever even given each other a hard time. So we're pretty classy about it.
"Off the ice, he's a hilarious guy and we get along really well. I think we've got a really good relationship that lends itself to us being competitive, but definitely in all the positive ways."
"We're good friends," Maguire said. "Everyone in the locker room is really good friends. We have a tight-knit group, especially our freshman class."
After O'Connor's season ended, Maguire's focus was apparent in more ways than one. During warm ups and national anthems in March, even when he was not facing shots, he was visualizing them, going through the physical motions of stopping pucks as the rest of his teammates stood still.
"If we're winning, I'm just going to do the same thing, no matter what it is," Maguire said. "I don't care what it is, no matter how dumb it looks or anything. The visualization part is absolutely huge for any position in the game. I think it puts you in positions during the game that you feel like you've been there already.
"It's just practice, just routine, so that's how I like to be. Prepared."
Whatever the routine, it worked. In four playoff games, Maguire posted a .950 save percentage. He was the biggest reason BU survived a period and a half of being dominated by Boston College and came back to win in the semifinals, and he kept the Terriers in a 0-0 tie with Lowell (28-11-2, 16-9-2 Hockey East) for 51 minutes in the finals.
"We weren't dominating these games at all," Geragosian said of the postseason. "[Maguire's play was] a big input in why we went to the finals."
Despite the poise Maguire showed in March, O'Connor will almost surely have the chance to reestablish himself next season. Although there is no guarantee that new coach David Quinn will maintain the rotation, O'Connor and Maguire said they expect to begin next year splitting time.
"When I met Quinn, he made a comment — he said, 'I don't think goaltending's our issue,'" O'Connor said. "So I think it's pretty even right now between me and Maguire, just like it was coming in."
Maguire was even more emphatic.
"We both have to play," he said. "Realistically, neither one of us is going to sit a whole year, ever, unless we get hurt."