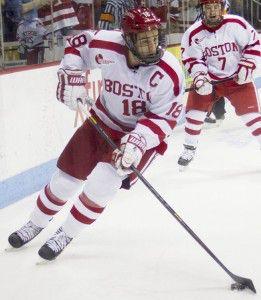 Only one jersey number has ever been retired by the Boston University men's hockey program. Travis Roy's No. 24 was raised into the rafters of Walter Brown Arena on Oct. 30, 1999, and it currently hangs next to Harry Agganis' No. 33 high above the seats in Agganis Arena.
However, Roy's number will soon have some company, as athletic director Mike Lynch announced that former BU coach and player Jack Parker will have his No. 6 raised into the rafters this fall.
Parker, who retired in March after 40 years at the helm of the BU hockey program, finishes his coaching tenure with 897 wins, 21 Beanpot titles and three national championships. He also had a productive playing career at BU between 1965-68, finishing his time on the ice with 31 goals and 64 points.
Most Valuable Terriers
It is often difficult to discern what is more valuable to a hockey team between offense and defense. So when it came time to select the George V. Brown Most Valuable Player award for BU (21-16-2, 15-10-2 Hockey East), an offensive and a defensive player each went home with a piece of hardware.
Senior forward Wade Megan and senior defenseman Sean Escobedo shared the MVP award, capping off two highly productive collegiate careers.
Megan, who served as the team's captain this past season, finished the season tied for second on the squad with 16 goals. He also led the team with four game-winning goals and three shorthanded goals.
One of the things that made Megan so valuable this season was his ability to lead by example, on and off the ice, which is what Parker said made him such a good captain.
"I give him a lot of credit," Parker said in a postseason interview. "He did what was asked of him and he did a lot more because he knew it was so valuable to him. And he was always a great example that way, that's for sure.
"I don't remember him taking many days off. Everybody takes a day off once in a while, but he didn't take a day off."
The Canton, N.Y., native was not present to accept his award at the team banquet Saturday night because he was playing in his final game of the season with the San Antonio Rampage of the American Hockey League. In his first 13 professional games, Megan scored a goal and was a minus-5.
Escobedo, on the other hand, was present at the banquet to accept his MVP award. The Bayside, N.Y., native led the nation with his 107 blocked shots on the season and was the team's strongest defensive player. He also finished the season with two goals and nine assists, giving him 33 career points.
The award is the final touch on a long maturation process for Escobedo, who was a bit of a "class clown" early in his career, according to Parker.
"He embraced the fact that he got to be more important with the team," Parker said. "'Since I'm so important now, I better grow up. I better take responsibility this year.' … He had a real good junior year too, but he had a terrific senior year."
While Escobedo is yet to move on to play professional hockey like Megan has, Parker said he would not be surprised to see him go to Europe to play professionally after he graduates.
Escobedo is not the only graduating senior that Parker expects to be playing in Europe next season, as he said defenseman Ryan Ruikka will likely do the same.
"I don't think there's any question that both of those guys will be playing some pro hockey somewhere next year," Parker said. "Ruikka will definitely be playing in Europe."
Ruikka finished his BU career with four goals and 15 assists in 97 games, including a goal and six assists in 34 games this past season. He also earned the first Mike Boyle Terrier of Steel award at Saturday's banquet, which goes to the top Terrier in the weight room and with off-ice training.
Other award winners
Other Terriers to receive honors Saturday night included senior forwards Jake Moscatel and Ryan Santana, junior defenseman Garrett Noonan, sophomore forwards Evan Rodrigues and Cason Hohmann, freshman forward Danny O'Regan and freshman goaltender Matt O'Connor.
Moscatel and Hohmann each earned the Most Improved Player award. Hohmann went from only scoring eight points in his freshman season to tying for third on the team with 34 points this past season. Moscatel played in his first 15 Division I college hockey games this season and scored his first career goal March 9 against Northeastern University.
Rodrigues earned the Friends Albert Sidd Unsung Hero award, as he finished with a team-best plus-minus rating of plus-15.
Santana earned the Bennett McInnis Award for Spirit during his best season as a Terrier. The Yorba Linda, Calif., native scored 12 of his 23 career points this past season.
The Clifford P. Fitzgerald Scholarship, which goes to an outstanding junior or senior defenseman, went to Noonan. The Norfolk native finished the season with 19 points and a plus-6 plus-minus rating.
O'Connor upset Ruikka as the Regina Eilberg Scholarship winner, which goes to the player with the highest standard of athletic and academic performance. O'Connor, a student in the School of Management, finished his freshman season with a .910 save percentage and a 2.86 goals-against average in 19 games played.
O'Regan earned the Ed Carpenter award as BU's top scorer on the season. The freshman finished the year with 16 goals and 22 assists for 38 points, which was one more than linemate junior Matt Nieto.