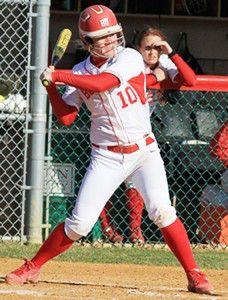 Looking to move on from a week filled with tragedy and delays, the Boston University softball team was dealt with another, albeit less serious, holdup when its Tuesday afternoon doubleheader against the University at Albany was postponed. The Terriers (17-20-1, 5-4 America East) will have to wait until Wednesday to try to expand upon their six-game winning streak.
"This time of year, there's some important games, especially in the conference, and [Tuesday] was not the day to play with the wind and the cold," said BU coach Kathryn Gleason.
Starting with a sweep of conference rival University of Maryland-Baltimore County on April 13 and 14, the Terriers have been on a roll, capped by an 8-0 victory Sunday afternoon against Sacred Heart University in which senior pitcher Whitney Tuthill struck out a career-high 12 batters.
"[The six-game winning streak] is not something we think about," Gleason said. "We just think about the next game."
But victory over Albany (28-10, 11-1 America East), currently the top seed in America East, will not come as easily for BU, which needs to find the same groove that led it to victory against Sacred Heart University (22-23) and Bryant University.
After struggling to plate runners for the first several weeks of the season, the Terriers picked up their offense during their win streak, scoring 36 runs over the past six contests.
The offensive production has come from all corners of the team, although junior outfielder Jayme Mask continues to be the Terriers' spark from the leadoff position. Her .380 batting average and .444 on-base percentage are both team highs. She is second in America East with 29 stolen bases and third in hits with 46.
Mask has not been the only offensive contributor for BU, as eight Terriers have recorded 10 or more RBIs on the year. Junior catcher Amy Ekart leads the team with 19, followed closely by senior second baseman Emily Roesch, who has 18.
Freshman outfielder Haley King and freshman first baseman Lauren Hynes continue to produce offensively, as their respective .310 and .290 batting averages are third and fourth on the team.
"Just see the ball, hit the ball," Gleason said about BU's offensive strategy. "[We] don't fill our heads with anything else but what we need to do when we step in the box."
In the circle, Tuthill has been excellent of late, recording two shutouts against UMBC (8-36, 1-14 America East) and Sacred Heart.
"It's a little easier to pitch and stand on the mound when you have a three, four, five, six-run lead," Gleason said.
Tuthill's last two victories pushed her record to 13-11 while her 2.33 ERA is a team best. She has continued to carry the team's pitching staff, recording 162.1 innings of work in the circle.
"Our pitching has been there, and they've kind of carried us through, and now our offense has just been coming around because they've been taking a different mentality to the plate." Gleason said.
The Terriers will need Tuthill and Mask in particular to continue their strong performances against a seemingly unstoppable Albany squad. After a weekend sweep of UMBC this past weekend, two Albany players, pitcher Brittany MacFawn and outfielder Annie Johnson, took home America East honors.
"The expectations are raised a little bit just because it's a conference game and Albany's having a great year," Gleason said.
MacFawn was named America East Pitcher of the Week for the third time this season. She has won eight straight decisions, leading the conference with a microscopic 0.21 ERA.
After a week in which she hit .750 and went 9-for-9 in stolen base attempts, Johnson was named America East Rookie of the Week for the second time this season. She was a perfect 8-for-8 at the plate in this past weekend's series against UMBC.
Following a Monday off, the Terriers returned to practice Tuesday afternoon to prepare themselves for their upcoming two games. These two contests will be crucial if the Terriers want to achieve their goal of winning the regular season America East title.
"We still believe we have a chance to win the regular title, so that's still our goal, and has been our goal from day one," Gleason said.