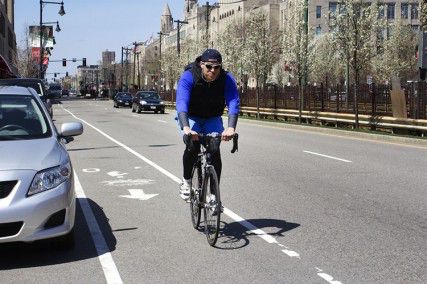 In an effort to make a safer environment on roads shared by bicyclists and motorists, the city of Boston will create lanes this coming spring on Brighton Avenue in Allston that both cars and bikes can use.
"There's an incredible amount of bike traffic there [on Brighton Avenue] and we wanted and needed to put something there," said Nicole Freedman, director of Boston Bikes, an organization that is pushing the initiative. "Cyclists will be farther from car doors. Drivers [will be] giving the cyclists more space. Those are the things we want."
The lane created will be similar to the separate bike lanes already in existence in various locations in the city set up with a green line, according to the original proposal for making shared lanes. These lanes will also have a picture of a bicycle with two arrows every 250 feet in the middle of the path. Without bikes, cars can drive normally, but they must accommodate for the speed of cyclists in front of them.
The new priority-shared lane would be the second in Boston. The first lane was created in 2010 on Longwood Avenue.
Peter Stidman, executive director of the Boston Cyclists Union, said the lane is largely a safety experiment because it is so new.
"We have one [a priority-shared lane] on Longwood [Avenue,] which is only a two-lane road," he said. "We haven't seen it work on a larger arterial four-lane street like Brighton [Avenue,] so we're very curious to see if it has any effect at all on safety or … [on] making people feel more comfortable."
While Boston has been improving bike safety over the past several years, Stidman said he would prefer to see cycle tracks — bike paths separated from car traffic by a median — in place of priority-shared lanes.
"The city, to its credit, designed cycle tracks around the Public Garden and Malcolm X Boulevard … but right now, they did not put those super safe facilities in the budget," he said. "The city is very enthusiastic about cycling, but when it comes to spending real money to create safer situations, they are not there yet."
Michael Verseckes, spokesman for the Massachusetts Department of Transportation, said while drivers may worry about sharing the road with bicycles, the priority-shared lane could benefit all parties.
"The biggest issue would be getting other drivers to realize and understand that there are bicyclists out there on the same roadway," he said. "Cyclists are much more vulnerable … and someone in a car would have to worry about that, but we're hoping that through training and through generating ongoing awareness that those will fade some of that concern."
Boston was ranked as one of America's "Worst Cities" for bikers three times between 1999 and 2006 in Bicycling Magazine, but the many initiatives improving bike safety since then have pushed Boston to 16th in the magazine's "America's 50 Most Biker-Friendly Cities" in 2012.
Freedman said the change in biker safety was gradual and largely due to Boston Mayor Thomas Menino's creation of Boston Bikes in 2007.
"We're one of the first and only cities to have a bike share system, and we have what I see to be one of the strongest biking communities in the country," she said. "There's no one thing that will make a difference [for biker safety]. It's consistent, comprehensive programs and projects on every level."