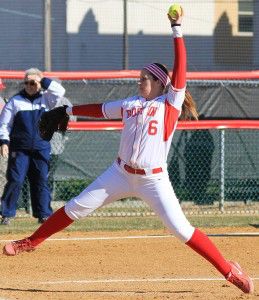 The Boston University softball team will travel to Storrs, Conn., to take on the University of Connecticut Thursday afternoon, seeking redemption for a heartbreaking loss earlier this season.
The Terriers (20-23-1, 8-6 America East) dropped an April 3 contest against UConn, 11-8, after falling behind 8-0 early and failing to complete the comeback.
"To say that it's not in the back of our heads, we wouldn't be truthful about that, but I think they probably think about it," said BU coach Kathryn Gleason about the previous loss. "But we're in a whole different place than we were at that time."
The Terriers that will play Thursday are almost an entirely different team from the group that fell behind 8-0 against UConn (25-24) a few weeks ago.
Since that defeat, BU has gone 11-6, including a six-game winning streak from April 13 to April 21. The Terriers have managed to put the offensive struggles that plagued them earlier this season aside, as their offense and defense have come together successfully over and over again.
"You want to evolve throughout the season," Gleason said. "We would have liked to find our identity a little sooner than we have been, but we're playing our best ballgames of the year."
BU showcased all of its improvements this past weekend against the University of Maine, as the team racked up 18 runs to Maine's six. Senior pitcher Erin Schuppert picked up two wins  — her second and third of the season — as the Terriers offense came through when it needed to.
With senior ace Whitney Tuthill still out with the injury that forced her to sit out against Maine (7-37, 3-12 America East), it will be up to Schuppert and freshman pitcher Lauren Hynes to once again take control in the circle.
Hynes continues to improve as the season goes on, allowing no runs in the first game last Saturday and bringing her ERA down to a season low of 3.85.
"I would assume even both of them will get some time [Thursday]," Gleason said.
Leading BU's offense this past week was junior center fielder Jayme Mask, whose stellar play earned her an America East Player of the Week title for the second time this season. Mask went 9-for-17 with six stolen bases on seven attempts. Those six steals put her within two grabs of the program's individual record of 37 in a single season.
Mask has led BU in batting average and on-base percentage all season, and this weekend's success her numbers to a .399 batting average and a .456 on-base percentage.
Mask has been a characteristically vocal and motivating leader for the Terriers at the top of the lineup, Gleason said.
"She's just embodied what we've wanted from our team all year and she's gone out and done that," she said.
After seeing more playing time this past weekend than she has for most of the season, junior first baseman Chelsea Kehr marked her territory within the Terrier offense, bringing her batting average up to .340 and her OBP to .389.
The Huskies have won six consecutive home games despite dropping four of their last six. In its last game, UConn defeated BU rival Boston College 6-4, a victory that earned number-one pitcher Kiki Saveriano her 15th victory of the season.
"Us scoring first, us playing our game right from the beginning and almost not worrying about what UConn does, but what we do [is key]," Gleason said.
Saveriano leads the Huskies with a 2.78 ERA and has started 28 games this season. Her victory against BC (13-34) Tuesday was her 19th complete game of the season.
Senior Marissa Guches has been the power behind UConn's offense all season. She leads the Huskies with a .386 batting average and is second only to classmate Kim Silva with a .621 slugging percentage. Silva maintains a .633 slugging percentage.
After their struggles against UConn a month ago and failure to complete a comeback, the Terriers are more determined than ever to come away from Thursday's game with a victory, giving them momentum before their last conference series of the season against Stony Brook University.
"It's about how we take the field," Gleason said. "About what we're doing and not worrying about what the other team's doing, and just know that we have to get on base, drive in those runs, play good defense and pitch well."