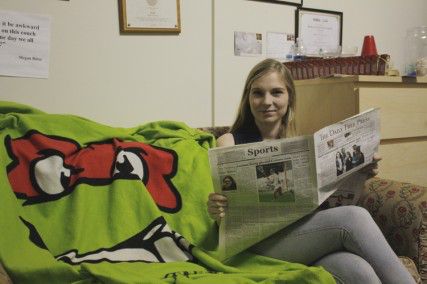 I started worrying about the content of my final word the day I was elected Editor-in-Chief. I knew my staff was going to turn out good work, but I was concerned we wouldn't be remarkable. What if my semester ended as just another dusty blue book in the back of the office, saved for posterity but never pulled from the piles?
But then two bombs went off at the finish line of the Boston Marathon.
For me — and I wasn't the only one — working was the only thing really keeping the fear and emotions in check. In the week we were reporting on the bombings and the manhunt we all grew up a little. And every night I went home exhausted and rattled but so incredibly proud of the friends I work with four nights a week.
In many ways, I feel guilty. The FreeP got some national attention thanks to our marathon coverage. For one week, no press officer scoffed at us when we called for credentials. We were taking the college media world by storm, but it was at the expense of three deaths and hundreds of injuries. I've spoken to a number of professionals in the wake of the bombings and they remind me that some professional journalists go years in their career without covering a tragedy like the one my staff of mostly sophomores tackled three weeks ago.
And when I start to feel guilty, I remember I'm not trained to help injured people, to help people deal with tragedy. I'm trained to tell their stories. And I hope we did that this semester, not just with the bombings, but also with everything this semester from Tony Barksdale II to Binland Lee and everything in between.
I've been on staff since my second week of college. I have worked with three different editorial boards, each with their own positives and negatives. I've covered hockey players, biolabs, occupy protests, credit ratings, bad landlords, trick-or-treating and a lot of studies related to student loan debt. And through it all I have watched this spring 2013 staff grow up.
This is my last night with some people that I am proud to call my closest friends. We don't always get along, and many times I am the bearer of bad news, but we power through. We've shared thousands of text messages, hundreds of Bertucci's rolls, dozens of jokes and many bottles of seltzer water. These people aren't just my friends, they are some of the best student journalists I know and I am honored to have had them call me their leader for the past few months.
So I guess I shouldn't have worried at all. I didn't know it four months ago, but my staff was capable of handling anything.
I know I won't forget this semester anytime soon and I hope you, the reader, won't either. Thanks for FreePing with us.
Emily Overholt
Spring 2013 Editor-in-Chief