2013-14 will be a year of new beginnings for Boston University athletics. The majority of the teams will transition to the Patriot League starting July 1 after competing in the America East Conference for 34 years. The men's hockey team will be hoping to make a statement with a revamped coaching staff after 40-year head coach Jack Parker retired at the end of the 2012-13 season. Many teams will look to returning young talent and incoming freshmen to consistently produce after losing some top athletes. Regardless, each varsity program at BU is packed with power. Here's an overview of what to expect from BU athletics this year:
FALL SPORTS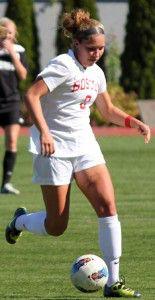 Women's Soccer
2012 record: 12-6-1 (8-0 conference, first in America East)
2013-14 top returners: Senior forward Madison Clemens (eight goals in 2012), senior midfielder Emma Clark (four goals, one assist in 2012)
Head coach: Nancy Feldman
The BU women's soccer team has been one of BU's strongest athletic programs over the past few years, including going undefeated in conference play in 2012. In the team's Patriot League debut, t hey will return senior midfielder Emma Clark, last year's America East midfielder of the year, and senior forward Madison Clemens, BU's top scorer and an All-Conference First Team member in 2012. Expect All-Conference Second Teamers Megan McGoldrick, Erin Mullen and Ana Cuffia to be huge contributors for the Terriers as well. Head coach Nancy Feldman is one of the most successful coaches at BU, with eight America East Coach of the Year awards and a 316-121-43 record on her résumé thus far.
Men's Soccer
2012 record: 6-8-4 (3-2-2 conference, fourth in America East)
2013-14 top returners: redshirt sophomore forward Mac McGuire (five goals, one assist in 2012), junior forward Parker Powell (five goals)
Head coach: Neil Roberts
Though they will lose one of their best players in 2012 MLS draft pick Michael Bustamante this season, the Terriers are bound for a successful year with experienced coach Neil Roberts at the helm. Forwards and top scorers from 2012, Mac McGuire and Parker Powell, will return. Senior forward Anthony Ciccone, who led the team with eight assists in 2012, will also give the offense a boost. Several key players will return from injury this season, mainly on the defensive side, including 2011 America East Defender of the Year senior Kelvin Madzongwe, who suffered a season-ending knee injury just three games into 2012  and sophomore defender Jeroen Blugh, who missed the final 11 contests of the season.
Women's Field Hockey
2012 record: 12-6 (4-1 conference, second in America East)
2013-14 top returners: sophomore forward Rachel Coll (two goals, four assists)
Head coach: Sally Starr
The field hockey team's home opener is the first chance BU fans will get to look at the brand-new $24 million New Balance Field, opening for the fall 2013 season . In previous years, the team's home games were in Newton, but they will be on campus this year. Field hockey is easy to follow — and what better way to learn a new sport than by watching one of the more successful programs in the region? The team was ranked within the top 20 nationally for the entirety of the 2012-13 season and just missed out on an NCAA at-large berth last season — BU was banned from conference tournament play last year, thus barring an automatic bid. The top five scorers from last season are now graduated, though this will give a chance for plenty of the young talent to start and play more minutes. One player to watch in particular is sophomore forward Rachel Coll, who had eight points in her rookie season and will likely lead a talented young BU squad this year.
WINTER SPORTS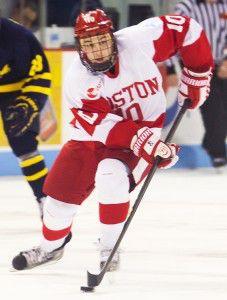 Men's Hockey
2012-13 record: 21-16-2 (15-10-2 conference, third in Hockey East)
2013-14 top returners: sophomore forward Danny O'Regan (16 goals, 22 assists in 2012-13), junior forward Evan Rodrigues (14 goals, 20 assists), sophomore defensemen Matt Grzelcyk (41 blocks)
Head coach: David Quinn
The most popular sport at BU is getting a bit of a makeover this season, as for the first time in 40 years, someone other than legendary coach Jack Parker will be behind the bench. David Quinn will take the reins following Parker's retirement, and Quinn made it clear in the press conference following his hiring that he expects grand things out of this storied BU program. Last season, a stretch of bad luck in January and early February ultimately doomed the Terriers to third place in the Hockey East Conference. Though they made the finals of the Hockey East Tournament, they fell to eventual national semifinalist University of Massachusetts-Lowell and missed out on an NCAA berth. The Terriers will be older and stronger next year, anticipating the return of forward Danny O'Regan after his successful rookie campaign. Sophomore goaltenders Matt O'Connor and Sean Maguire, both of whom had successful rookie seasons as well — though O'Connor's season was cut short due to a collapsed lung — will look to continue their stellar netminding into the 2013-14 season. Senior defenseman Garret Noonan will also be returning and will play a crucial role for the Terrier defense. They will face difficulty against UMass-Lowell and, of course, BU's bitter rival Boston College, but despite having to adapt to a new coaching style, this group of players should have a solid chance of making a run at the NCAA tournament.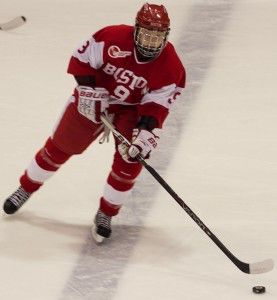 Women's Hockey
2012-13 record: 28-6-3 (18-2-1 conference, first in Hockey East)
2013-14 top returners: Sophomore forward Sarah Lefort (24 goals, 19 assists in 2012-13), senior forward Louise Warren (15 goals, 19 assists), senior goaltender Kerrin Sperry (.919 save percentage, 2.20 goals allowed average)
Head coach: Brian Durocher
Though many BU programs have had success historically, BU women's hockey is unmatched by any other Terrier program in its accomplishments over the past several seasons. Coached by former Terrier goalie Brian Durocher, who just signed a contract extension through the 2018-19 season, BU has qualified for the NCAA tournament each of the past four seasons and reached the national championship twice in the past three years. Last season, aided by a 14-game unbeaten streak ranging from November to February, the Terriers finished atop the Hockey East and cruised through the postseason before ultimately falling by a score of 6-3 to the undefeated University of Minnesota in the national final. BU will lose forward Marie-Philip Poulin as she competes for Team Canada in the 2014 Olympics but will return top scorers sophomore Sarah Lefort and senior captain Louise Warren. Its top defensive pair of junior Shannon Stoneburgh and senior Shannon Doyle will remain intact and aid senior goaltender Kerrin Sperry as she looks to continue her momentum from late in the 2012-13 season. Sperry allowed just 17 goals in her last 10 games, with five of those coming against Minnesota. The squad finished the 2012-13 season with the No. 2 ranking in the nation and, though they will face tough tests in Hockey East from Northeastern University and Boston College, they have the tools to be one of the top five teams in the nation yet again in 2013-14.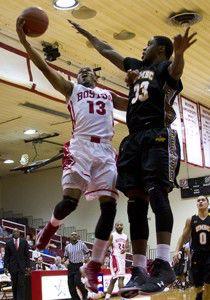 Men's Basketball
2012-13 record: 17-13 (11-5 conference, third in America East)
2013-14 top returners: Senior guard D.J. Irving (14.2 points per game in 2012-13), senior forward Dom Morris (11.6 points per game, 6.4 rebounds per game), sophomore guard Maurice Watson Jr. (11.2 points per game, 5.4 assists per game)
Head coach: Joe Jones
Every impact player for the men's basketball team will return this season, and the Terriers look poised to excel in their first season in the Patriot League. All conference matches will be moved to Agganis Arena starting this year, providing more room for fans to fill the stands. In addition to its top three scorers returning, BU will add a couple fresh faces to its talent-packed roster: 6-foot-5 shooting guard Cedric Hankerson and 7-foot-0 center Dylan Haines. Hankerson provides size in the backcourt, while Haines adds the true big man that the Terriers have lacked for the past few seasons. Last season, the Terriers boasted one of the best-shooting squads in the conference, shooting 44.9 percent from the field and 37 percent from 3-point range, led by then-freshman sharpshooter John Papale, who shot 41.9 percent beyond the arc. With strong players at each position, BU has an opportunity to take the Patriot League by storm, with a solid chance to make the NCAA Tournament in March and perhaps win a game or two if they get there.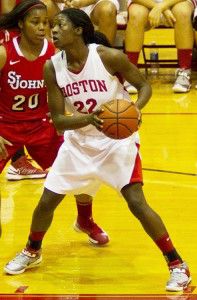 Women's Basketball
2012-13 record: 24-6 (13-2 conference, second in America East)
2013-14 top returners: Senior forward Rashidat Agboola (11.7 points per game, 9.0 rebounds per game), junior guard Danielle Callahan (7.7 points per game)
Head coach: Kelly Greenberg
The women's basketball team has compiled a 47-15 record over the past two seasons under the coaching of Kelly Greenberg, who has excelled since taking over. They just missed an at-large bid to the NCAA Tournament following the 2012-13 season but earned a berth in the WNIT, defeating Sacred Heart University in the first round and eventually falling to Fordham University in the second round. The Terriers lost their stellar backcourt duo as top scorers Chantell Alford and Mo Moran graduated, but BU certainly will not be lacking in talent this year. Returning 6-foot-1 forward Rashidat Agboola averaged nearly a double-double last season and added 1.5 blocks per game as she led the Terriers in the paint. BU is not afraid to take on powerhouses, and the Terriers have a robust non-conference schedule each year. Last season, they faced several top teams, including then-No. 14 West Virginia University and also knocking off then-No. 17 St. John's University by a score of 66-49.
Indoor Track and Field
2013-14 top returners: senior Rich Peters (distance), senior Nikko Brady (sprints/hurdles), junior Gemma Acheampong (sprints), freshman Reuben Horace (throws)
Head coach: Robyne Johnson
The BU Track and Tennis Center is one of the prime indoor track facilities in the Northeast, and many large meets are held there, including the annual Terrier Invitational, which attracts some of the top runners in the nation each January. Olympian Galen Rupp competed in the elite mile at this year's Terrier Invite, and nearly broke the American indoor record, finishing in 3:50.92. BU also produces national championship qualifiers each year under the experienced coaching of director Robyne Johnson and assistants Bruce Lehane, Gabe Sanders and Mike Delgado. Top miler Rich Peters, national runner-up in the mile in 2011, will be returning, and several underclassmen are knocking on the door of a potential regional or national championship berth.
Wrestling
2013-14 top returners: Senior Nestor Taffur (157 pounds), sophomore Dane Harlowe (133 pounds), junior Kevin Innis (285 pounds)
Head coach: Carl Adams
In April, BU announced the varsity wrestling program would be cut following the 2013-14 season. Unfortunately for this group of talented athletes, it was not an April Fool's joke, and they will look to end their final year at BU on a high note. Head coach Carl Adams is one of the most esteemed wrestling coaches on the East Coast and has a passion for the sport that shows in the success of his athletes. Three NCAA tournament qualifiers from last season will return for the Terriers in Nestor Taffur, Dane Harlowe and Kevin Innis. These men and many more on the squad are eyeing a return to the NCAA tournament, and it should be interesting to see their motivation in response to the unexpected program discontinuation.
SPRING SPORTS
Softball
2013 record: 21-26-1 (8-9 conference, fifth in America East)
2013-14 top returners: senior Jayme Mask (.399 average, 37 stolen bases in 2013), senior Amy Ekart (.291 average, five home runs), sophomore pitcher Lauren Hynes (5-8 record, 4.15 ERA)
Head coach: Kathryn Gleason
Despite losing top pitcher Whitney Tuthill, the softball team will be primed for a successful season in 2014. After struggling during the early part of the campaign, Lauren Hynes picked up five wins in her first year as a Terrier and will look to step up and be the ace of the pitching staff. On the offensive side of the ball Jayme Mask returns, who was crucial for the Terriers in the leadoff spot. Mask led the America East Conference in hitting and was named the America East Player of the Year. She also was named to the All-Region First team. Catcher Amy Ekart has had the power stroke working in her time at BU and will look to best her five homers of 2013. Another player to look at is sophomore outfielder Haley King. As she got more playing time in the 2013 campaign, she excelled and should improve in 2014 in her second year. As Gleason will have one more year under her belt, the Terriers will look to get back to the NCAA Regionals as they did during the 2012 season.
Women's Lacrosse
2013 record: 6-10 (2-4 conference, sixth in America East)
2013-14 top returners: senior attack Elizabeth Morse (24 goals, nine assists in 2013), sophomore midfielder Sofia Robins (15 goals, two assists)
Head coach: Liz Robertshaw
While the loss of attack Danielle Etrasco, BU's top scorer in 2013 and one of the top players in the nation, will take away a strong offensive contributor, several players will have the potential to step up. Forward Mallory Collins, the 2012 America East Rookie of the Year who sat out all of the 2013 season with an ACL injury, will be healed and ready for action, while experienced attack Elizabeth Morse and standout midfielder Sofia Robins will provide some offense for this squad led by esteemed coach Liz Robertshaw.
Men's Lacrosse
Set to finally begin Division 1 varsity play this upcoming season, the Boston University men's lacrosse team will be one of the most intriguing and entertaining teams to watch this spring.  Led by head coach Ryan Polley, who served the last six years as an assistant coach at Yale University, the BU men's lacrosse team, which was founded as a club team in 1972, is set to start an exciting new chapter on Commonwealth Avenue. With prime matchups against teams such as Navy, Army, Lehigh University and Bucknell University, as well as a great home venue in Nickerson Field, the Boston University men's lacrosse team will be one of the most talked-about teams when the season begins in February.