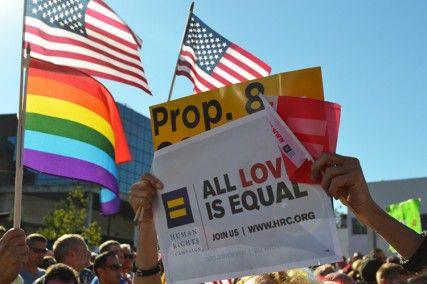 In a major victory for gay rights, the U.S. Supreme Court  issued a decision striking down the Defense of Marriage Act on Wednesday, opening the path for gay married couples to receive federal benefits they were denied under the act.
The 5-to-4 ruling deemed the law unconstitutional under the equal protection clause of the Fifth Amendment, according to the decision. Justices Anthony Kennedy, Ruth Bader Ginsburg, Stephen Breyer, Sonia Sotomayor and Elena Kagan voted to repeal the law.
"DOMA's unusual deviation from the usual tradition of recognizing and accepting state definitions of marriage here operates to deprive same-sex couples of the benefits and responsibilities that come with the federal recognition of their marriages," Kennedy wrote in the decision.
Boston University School of Law professor Jack Beermann said Wednesday's ruling is an important step toward legal equality in the U.S., as same-sex marriages in states where they are allowed will bring the same benefits as heterosexual marriages.
"Same-sex couples will now receive the federal benefits that they were previously denied," Beermann said. "The federal government is now required to recognize all of the people that have gotten married in Massachusetts with benefits such as Social Security, shared income tax and federal employee benefits."
He also said the ruling may also have implications for private universities that receive federal money, as if a university seeks support from any federal programs that do not recognize same-sex marriages, the program may now be banned.
Overall, Beermann said the ruling is positive but would have stronger implications down the road had it been a more decisive victory.
"I am not surprised about the DOMA ruling, but it is too bad that it was a 5-to-4 decision and some conservatives couldn't put their views of what's right and wrong behind them and think about their constitutional issues," Beermann said.
The overturn of the DOMA forces the federal government to recognize same-sex marriages in states that permit them as well as to allow more than 1,100 benefits or tax breaks previously reserved only for heterosexual marriages.
The list of benefits barred from same-sex couples since DOMA's approval by President Bill Clinton in 1996 include Social Security, benefits related to a spouse's death or handicap, untaxed property inheritance and marriage of a foreigner as permission to immigrate.
Chief Justice John Roberts and Justices Samuel Alito, Antonin Scalia and Clarence Thomas dissented.
"We have no authority to decide this case on the merits," Roberts wrote in the dissenting opinion.
DOMA's repeal could also have some negative effects for same-sex families. Students with parents in a same-sex marriage could receive less federal aid for higher education because they would have to report both parents' incomes rather than one. Married couples could also be less eligible for Medicaid and Supplemental Security Income for the same reason.
However, several gay rights activists said the Supreme Court's decision is a huge step for gay rights throughout the United States.
"This is definitely more of a social victory than a financial one," said Justin Lievano, 19, a gay Boston resident and volunteer at the Lesbian Gay Bisexual Transgender Aging Project. "It is the federal government recognizing thousands of couples they could otherwise ignore or disfranchise under [DOMA] … that's probably one of the biggest things."
U.S. President Barack Obama said it was a victory for same-sex couples and for the nation as a whole.
"[DOMA] was discrimination enshrined in law," he said in a press release on Wednesday. "It treated loving, committed gay and lesbian couples as a separate and lesser class of people. The Supreme Court has righted that wrong, and our country is better off for it. We are a people who declared that we are all created equal – and the love we commit to one another must be equal as well."
Boston Mayor Thomas Menino said the decision reflected a standard Boston and Massachusetts have set since the Commonwealth became the first U.S. state to legalize same-sex marriage in 2004.
"Today is a great day for all of our people," he said in a press release on Wednesday. "Marriage equality first played out right here in Boston and, like the many firsts Boston has championed, it has proven to be the right path forward for a more open, inclusive America, where everyone is welcome to love, pray and believe however they choose."
The Supreme Court also dismissed the appeal for California's Proposition 8 legislation, which was a public ballot measure banning same-sex marriage in the state. In ruling 5-to-4 that there is no "standing" for the case, the court effectively opened the way for same-sex marriage to resume in California.