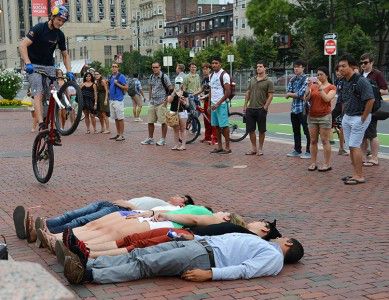 Boston University students gathered Tuesday afternoon on Marsh Plaza to watch professional biker Thomas Oehler showcase a variety of tricks as part of an ongoing college tour sponsored by Red Bull.
BU Bikes and Landry's Bicycles, located near West Campus, collaborated to bring Oehler to BU, where he performed Tuesday around 3 p.m.
"We are going to do a mostly flatland demo," Oehler, 30, said prior to the performance. "We'll take some volunteers and get some volunteers involved."
Oehler's sponsors picked students from the gathering crowd, asking them to lay down side-by-side. He jumped over the students on his bike, eventually jumping over a total of six students.
"They have to trust in my skills," he said. "I usually scare them a little bit. You know, play around. It's good fun."
Since arriving in Boston Sept. 1 from his hometown in Austria, Oehler has done demonstrations on the campuses of Northeastern University and Massachusetts Institute of Technology.
On the rest of his tour, he will visit various cities along the East Coast including Washington, D.C. and Virginia Beach, Va.
"I'm doing a college tour for the fifth time," he said. "Actually, the first stop we ever had was in Boston, so it's pretty cool to be back here again and see the same spots I already know from the last tours."
Oehler has been biking since he was 12, specializing in a type of biking called trials biking where the objective is for riders to bike over obstacles.
After Oehler began participating in competitions, he won the Austrian title for trial biking five times, the European trials biking title in 2006 and the World title in 2008.
"In competitions, you have a set course," he said. "You have to go through this course, and if you touch the ground with your feet it's a penalty point. Those points add up — so, the less points, the better."
Oehler described his demonstration on Marsh Plaza as a combination of BMX biking and trial biking elements.
"What I do is more a mix of BMX and trials," he said. "I take some tricks out of BMX and put them together with some trials moves. Usually trials is not about doing tricks — it's about riding over stuff."
Galen Mook, a Landry's marketing employee, said Oehler was at BU to impress students and to encourage their interest in biking.
"We want to basically promote bicycling in all of its forms," he said. "The main reason why people should bike is for fun, not just to get around or for exercise — those are all valid [reasons] — but the number one reason is that bikes are fun, and Thomas kind of represents that aspect."
BU Bikes Treasurer David Miller said he was impressed by the demo.
"It's inspiring," Miller, a College of Engineering sophomore, said. "I want to be able to do stuff like that on my bike."
Ben Goodman, another BU Bikes member, said he also enjoyed Oehler's visit to campus.
"Anytime someone's on a bicycle it's guaranteed to be awesome," Goodman, a College of Arts and Sciences senior, said. "This [Marsh Plaza] is the perfect venue for something like this."
Mandy Maisel, a College of General Studies sophomore, enjoyed being a part of the demonstration. She was one of the students who Oehler jumped over while on his bike.
"It was fun," Maisel said. "I wasn't scared. I don't think I would have done it [volunteered] if I thought I was going to get hurt."