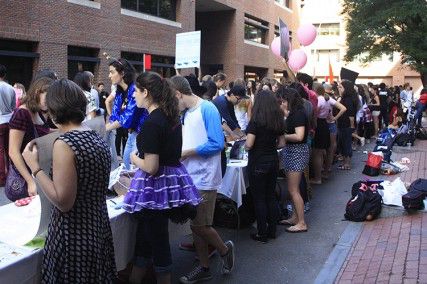 Boston University students and officials voiced both praise and concern after Splash, BU's annual club fair, was hosted on the Cummington Mall Saturday afternoon.
Assistant Dean of Students John Battaglino said he was pleased by the way Splash, which traditionally has taken place on Nickerson Field immediately following Matriculation, unfolded at its new location.
"We're trying to find ways to make sure that students have the opportunity to interact with each other and how we welcome new students," he said. "We tried something this year, and I think it worked out really well."
BU President Robert Brown made the decision to hold Splash on Cummington Mall this year instead of on Nickerson Field, Battaglino said, since university officials purchased the block from the City of Boston in June 2012 in order to hold these kinds of functions.
"This was a neat way to line up all the way down one side of the street and all the way down the other all for the different clubs and organizations," Battaglino said. "… I saw not only first year students but also returning students coming to see how they can get engaged at the university."
Student Government Executive Vice President Richa Kaul said the change in location did not have a significant impact on Splash.
"It was just as crowded as the way Nickerson field was — I don't see any real issue with it [being moved to Cummington]," Kaul, a College of Arts and Sciences sophomore, said. "I'm impressed at how many students came."
While Battaglino noted there are some improvements to be made for Splash 2014, he said the festival is simpler to organize than others.
"It [Splash] is one of the easiest events that we coordinate," he said. "All we do is put tables out and then it's all student groups expressing themselves."
Claire Sutton, president of The BosTones a capella group, said that while Cummington Mall provided less space, students learned how to maneuver through the crowd.
"It's also nice that it [the order of the tables] is alphabetical," Sutton, a College of Communication senior, said. "Usually all the a capella groups are all together, all twelve of us in a row. That makes it too overwhelming and competitive. This is more spaced out."
First Year Student Outreach Program Coordinator Jason Feinman, of the BU Community Service Center, said the linear arrangement of the tables made it easier for incoming students to get information about clubs and student groups.
"They don't have to run across Nickerson Field like they used to or walk across the track," Feinman, a CAS senior, said. "They can just go straight down one line."
CAS sophomore Margaret Page, a member of BU's Army ROTC, said holding Splash closer to Warren Towers was convenient for many freshmen.
"A lot of freshman live in Warren," she said. "… This [Splash] is mainly focused towards freshman and getting them involved, so I think having it closer to Warren is helpful for them because they are not so overwhelmed."
School of Management  sophomore  Paige Triplett, a member of BU's Kappa Delta Sorority, said at Splash that the lack of space created an issue for sororities and fraternities, which were all grouped together in previous years.
"We've been doing well — it's just a little bit crowded," she said at the event. "There's a lot of people from all the sororities who are handing out flyers and we're all on top of each other."
COM freshman Kianna Shore said she found the logical order of the tables helpful.
"I liked that if you were interested in one thing, you would probably find something else in the same area that you would be interested in," she said.
CAS freshman Delia Sanders said while she got to visit all of the tables she hoped to visit, Cummington Mall was packed.
"It was hard to walk," she said. "… It would be nicer if you could see all of them [the student groups] at the same time on the field."