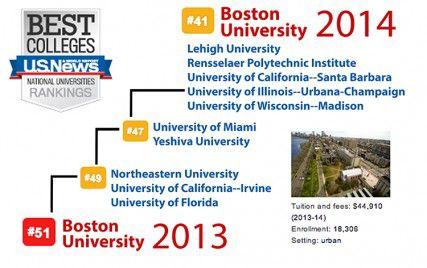 Boston University jumped up 10 places to 41st among universities — its highest ranking yet — across the nation in the 2014 version of the U.S. News and World Report's National University Rankings.
The rankings, released Tuesday, reveal that BU's ranking improved from 51st place to 41st place between the 2012-13 and 2013-14 academic years.
"BU had improvements in academic reputation, financial resources, graduation and retention rates, admissions data [and] faculty resources," said U.S. News and World Report Director of Data Research Robert Morse. "It had small improvements in many of the factors we use in the rankings."
The National University Rankings are calculated by measuring a number of criteria for colleges, including areas such as alumni giving, admission factors, financial resources and several indicators in faculty and academics, Morse said.
BU has made a relatively large improvement from last year in comparison to other universities, Morse said. Penn State University and Miami University of Ohio also made large jumps from their positions last year.
"Boston University had a relatively big jump," he said. "It's normal, but it was certainly more than a typical jump or increase."
Princeton University came in at the number one spot, knocking Harvard University from its usual spot down to second place. Yale University followed at third place. Massachusetts Institute of Technology, just across the river from BU in Cambridge, came in at seventh place, tied with Duke University and University of Pennsylvania.
Tufts University in Medford was ranked 28th and Boston College in Newton was ranked 31st. Northeastern University, situated close to BU's Charles River Campus, was ranked 49th.
BU spokesman Colin Riley said BU's new rank is partially the result of President Robert Brown's effective Strategic Plan and BU's acceptance into the Association of American Universities.
"Its [BU's] increases in research, in selectivity, in fundraising all go back to the president's strategic plan that he's been working so hard on," he said. "Its good academic leadership and prudent financial leadership [contributed] as well."
BU's progress in U.S. News and World Report's National University Rankings has been steady and incremental in past years, Riley said. Jumps of this magnitude, however, are relatively rare.
"As more people realize all the great things going on at BU, that gain in reputation is now being seen in the rankings," he said.
The jump might also be due to improvements and changes in U.S. News and World Reports ranking techniques, Riley said.
"Some of that may be due to the U.S. News working on improving its methodologies or formulating the methodologies to reflect the important criteria for students and parents to look for when applying for a university," he said.
College of Arts and Sciences senior Adi Foord said there have been noticeable changes across the board at BU that may have contributed to this change in rankings.
"Programs are getting better, such as SMG and COM, and it is getting harder to get into [those programs], which I think is helping out," she said. "I think the overall GPA [of accepted students] is increasing, which is also making a difference."
Foord, a physics major, also said incoming students are increasingly talented.
"The freshmen in my program have seemed more prestigious, most definitely," she said. "I know the program itself is [also] becoming more prestigious."
College of Fine Arts sophomore Diego Cornejo said she is pleased with BU's gradual progress in rankings.
"Academically, BU is getting a lot more rigorous, but that is good because then I will learn more," she said. "It gives me motivation to work harder."
College of Engineering freshman Grace O'Donnell said BU's academic excellence is apparent from increasingly competitive admissions to BU programs.
"College competition has gotten so much higher," she said. "I think BU deserves it [the jump in rankings]."
CORRECTION: A past version of this article stated Northeastern University was ranked 56th, while it is actually ranked 49th. This article has been updated to reflect this correction.