Less than a third of registered voters made their way to the polls on Tuesday to cast their ballot for one of the 12 mayoral candidates looking to replace longtime Boston Mayor Thomas Menino.
About 113,222 votes were cast in the primary, which is about 30 percent of the city's 386,000 registered voters. The voter turnout was higher compared to the 2009 mayoral primary election, when only about 23 percent of registered voters participated to vote between Menino and three other candidates.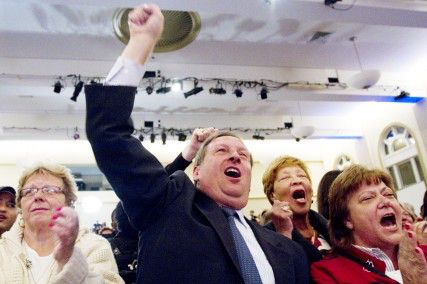 Voters chose between 12 candidates including City Councilors Felix Arroyo, John Connolly, Robert Consalvo, Michael Ross and Charles Yancey, former Boston Public School committee member John Barros, radio station host Charles Clemons, Suffolk District Attorney Daniel Conley, former housing chief Charlotte Golar Richie, Community Organizer Bill Walczak, Mass. Rep. Martin Walsh and former schoolteacher David Wyatt.
Despite the low voter turnout, several residents said voting for a new mayor was high on their list of priorities since the individual elected will be the first new mayor in 20 years.
Christopher Coombs, 29, resident of Dorchester, said he came to the Boston Public Library to cast his ballot for Ross on the historic day.
"Mike Ross has been a champion of small business," he said. "He's helped me to get all of my establishments open and he's really been a believer in moving the Boston restaurant scene forward. He knows what direction to take the city and how to grow it proportionately, to keep up in things like public transportation and housing and how to grow the city effectively by planning first and growing second."
Another voter, Catherine Hulgan, resident of Back Bay, said she voted for Barros so that she would be able to select a candidate from the two contenders she liked best.
"I voted for Barros … I liked his plans about schools and I also particularly appreciated that he was interested in the arts and in recycling bins, that was a really big thing for me," she said. "I was down to him and Connolly and it seemed like Connolly would make it to the second round. I wanted to be able to choose between the two people I was most interested in."
Other residents went to candidates' election parties to wait for the primary results and to show support for the candidates who garnered their votes. At Walsh's party in Dorchester, many voters said they were elated when he won.
Susan Moir, 65, resident of Jamaica Plain, said she voted for him because he is representative of workers in Boston.
"They said we shouldn't vote for him because he's a union man, but we voted for him because he's a union man," she said. "[He] will represent the working people of this city …that's what he's done his whole life."
Kevin Toomey, 53, resident of Charlestown, said Walsh is the best candidate for the job.
"This is a step in the right direction for workers and working families, union or otherwise," he said. "It's not what the polls said, but we've gone a long way to get Marty as mayor … He's got a lot to offer Boston."
Over in Roxbury at Connolly's election party, many guests cheered for the candidate as he finished second place in the polls.
Michelle Novelle, 50, resident of Roslindale, said she was thrilled that Connolly had made it past the first round of voting.
"He's a man of his word," she said. "As a city councilor, he has been key in helping resolve so many issues that have arisen in the Boston Public Schools. He is also largely involved in the community [and] kids with autism. John is somebody who has … a grasp on the city and understands how schools connect to jobs [which] connect to safer neighborhoods."
Mike McLaughlin, 26, said Connolly is the right man to lead Boston and can win the election if he works hard in the next six weeks.
"He brings a lot of fresh, young ideas to young families, and I think he is the education candidate," he said. "He's in second place, and that's not a big ground to make up. I think he will do that in the next 6 weeks. I look forward to working hard on his campaign and trying to make it [Boston] a better city and a city that's vibrant, that comes together and works hard as one community."
Connolly and Walsh will compete for votes again on Nov. 5 to see who will replace Menino as mayor of Boston.
Steven Dufour and Chelsea Diana contributed to the reporting of this article.