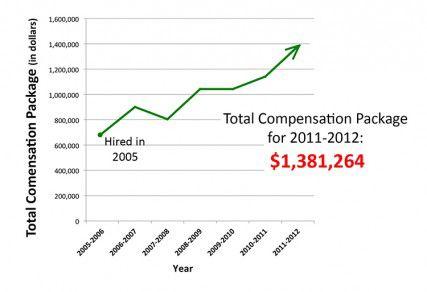 Boston University President Robert Brown's compensation increased by almost $250,000 between the 2010-11 and 2011-12 academic years, according to 990 tax forms filed by BU officials.
Brown received $1,141,330 in compensation for the 2010-11 year and $1,381,264 for the 2011-12 year, BU spokesman Colin Riley confirmed. The increase is partially attributed to Brown's success in following his strategic plan for the university.
"By all indicators, the university performance — certainly the financial performance of the university — is stronger than it's ever been under his leadership and his strategic vision of the campus," Riley said "… We're very fortunate to have his outstanding leadership."
The Executive Compensation Committee of the Board of Trustees decides Brown's annual salary through negotiation, Riley said. The university president's compensation comes from revenue stream that funds all major university operations.
"It's from the same revenue stream that provides the operating revenue stream for the university," Riley said. "Salaries and benefits are the single largest component of expenses at the university. The single largest revenue stream is tuition."
Brown's compensation for the 2011-12 year exceeds the compensation of presidents at other major Boston area schools, according to the each university's official Form 990. Harvard University President Drew Faust made $899,734 and Emerson College President Lee Pelton made $421,520. Other local universities 990 forms for the 2012-12 year have not yet been posted online.
Brown's compensation also saw a major increase between the 2007-08 and 2008-09 school years, when the International Revenue Service began requiring colleges to include the value of perks, such as housing, in official compensation packages declared on tax forms, Riley said.
Between the 2007-07 and 2008-09 school years, Brown's salary increased by $238,653 from $804,639 to $1,043,292, Riley confirmed.
"The university requires him to live in university housing," Riley said. "When we calculate his salary and benefits, we include the value of the housing he lives in."
Brown's current residence is a five-bedroom house in Allston, which BU officials estimate would rent for approximately $21,000 a month, Riley said.
College of Arts and Sciences  sophomore  Mary Kate Czepial said Brown is not as visible to students as BU officials such as Dean of Students Kenneth Elmore.
"I do feel like he's running the university well — I just feel like he's not really making himself known to the students, which is really important," she said.
University accomplishments, such as BU's recent jump in U.S. News and World Report college rankings, are likely factors for increases in Brown's salary, Czepial said.
"He should have a set pay and get bonuses for anything that might have exponentially increased at the school, such as our ratings or being able to accept more students because we are able to give out more financial aid," she said.
CAS freshman Sara Geni said she does not think such a significant increase in President Brown's salary is justified, and that university officials' compensation should be based on what they accomplish for the school.
"The increase in their salary should be proportional with the things that they do for the students," she said.
CAS sophomore Laura Petishnok said while she appreciates Brown's ability to handle crisis situations, she is unsure how she feels about Brown's high compensation.
"My gut instinct is that it's not fair, but again, I don't know what's being outlined," she said. "Maybe after calculating the logistics of everything, maybe he really does deserve what he is getting. BU is a huge business. A lot of things go on. BU has to make money, too, to support everything that's going on here."
School of Management freshman Caitlin McGraf said the money she pays to attend BU could go to more important things than Brown's paycheck.
"I know BU is a good school and it sounds like he's doing a good job, but that's a lot of money," McGraf said. "That [money] could be going to other resources for students to make the school even better."
CORRECTION: A previous version of this article stated Brown's pay increased by $350,000, when it actually increased by only $250,000. This article has been updated to reflect this correction.