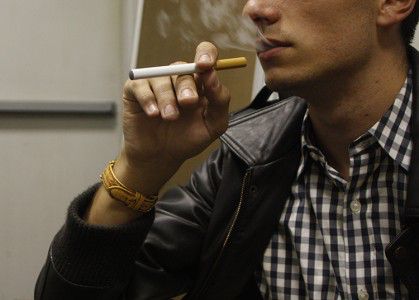 As a bill to prohibit minors from purchasing electronic cigarettes works its way through the state legislature, Mass. Attorney Gen. Martha Coakley, along with 39 other attorneys general, signed a letter to the Food and Drug Administration asking that e-cigarettes be restricted in the same way as all other tobacco products at the federal level.
Mass. Rep. Jeffrey Sanchez, who sponsors the bill to regulate e-cigarettes at the state level, said minors should not be allowed to buy them when other illegal products can do similar harm.
"Right now, Massachusetts laws are silent on e-cigarettes," he said. "If a seven-year-old were to go into a 7-11 [convenience store], they could pick up those nice, charming-looking little packages that look like any other candy or anything else that's usually on a convenience store [shelf]. It's too accessible … the primary issue is to make sure we don't create another generation of smokers."
E-cigarettes, which use batteries to vaporize nicotine and come in different flavors, are banned for anyone under 18 in Boston and several other cities in the Commonwealth, but there is no federal or state age restriction on purchasing them.
"People, especially kids, are being led to believe that e-cigarettes are a safe alternative [to other tobacco products], but they are highly addictive and can deliver strong doses of nicotine," Coakley said in a Sept. 24 press release. "We urge the FDA to act quickly to ensure that these products are regulated to protect the public, and are no longer advertised or sold to youth."
The letter to the FDA, dated Sept 24, was co-sponsored by Coakley and Ohio Attorney General Mike DeWine. In it, they argued e-cigarettes appeal to youth while still producing several harmful effects of other tobacco products and should therefore be regulated under the Tobacco Control Act like traditional cigarettes are.
The percentage of high school students reporting e-cigarette use in the nation more than doubled between 2011 and 2012 going from 4.7 percent to 10 percent, according to the National Youth Tobacco Survey conducted by the Centers for Disease Control.
Several residents said they had an issue with companies advertising e-cigarettes to children.
Andre Howell, 25 a resident of Avon, said he did not like that companies advertised to children, but understood the financial need for it.
"A lot of things with colors might attract a child's attention," he said. "I would hope that that's not the company's intention, but I think that they have to do something to get the product out there. If we're trying to lower the statistics of everyone dying from it then we need to do everything possible, and banning children from getting e-cigarettes is part of that."
Alex Brizer, 19, a resident of Boston, said he disagreed children were advertising targets at all.
"They're advertising," he said. "I think if they're [kids] going to smoke it, it has nothing to do with the flavors."
Frederica Azor, 20, a telemarketer in Medford, said she had a problem with advertising e-cigarettes to children.
"They're telling … the younger kids it's safe for you to smoke it, because it's safer somehow and you can smoke it anywhere," she said. "It doesn't change the fact that it's a cigarette."