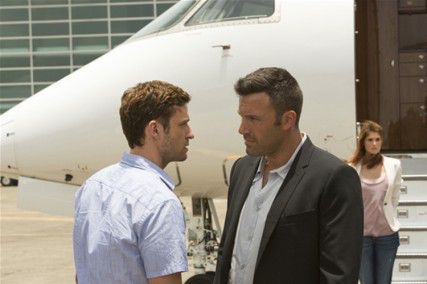 Justin Timberlake has dominated pop culture for more than a decade with number-one hits, VMA performances and late-night talk show appearances. Ben Affleck is also a hot topic these days between 2012's successful awards season and his being cast as Batman for an upcoming rendition.
Now take these two stars, fly them to Puerto Rico and film a few fight scenes. Throw in an alluring love-interest and a few parties and call it a movie. This is the way Runner Runner, which debuted on Friday, feels: it lacks proper character development and a believable plot while its stars do little to pick up the slack.
The film, is a drama directed by Brad Furman, stars Timberlake as Richie Furst, a Wall-Street-broker-turned-Princeton-student, who uses online gambling to pay his tuition. After being cheated by a poker website, Richie travels to Costa Rica in search of the site's CEO, whom he hopes will refund his money and ultimately save his education. Affleck stars as Ivan Block, the charming yet corrupt owner of an online gambling empire. When offered the opportunity to become Block's right-hand man, the Ivy League gambling expert should see the warning signs. But instead, Richie chooses girls, beaches and money and takes the job offer.
Block's sinister side emerges as Richie becomes a pawn in a series of confusing trades and blackmail schemes. There is an inevitable and uninteresting love triangle between Richie, Block and his ex-girlfriend/business partner Rebecca (Gemma Arterton). As the plot reaches its foreseeable end, there is no reason for audiences to root for Richie in either his romantic or career pursuits. Timberlake, who is usually charismatic and likable on screen, shows no emotional range throughout the film — when bad things happen to Richie, suspense therefore fails to build. Richie's relationships with his father, friends and Rebecca are weak and undeveloped. Even his voice-over narration sounds monotonous and manufactured. Affleck out-acts Timberlake — though marginally — delivering some moments of dry, dark humor. Yet, Affleck appears bored with the role overall.
Shot in Puerto Rico, which is meant to aesthetically resemble Costa Rica, the setting provides a scenic backdrop of both a tropical paradise and a local Caribbean flavor. The two are juxtaposed nicely, but the quick switches between scenes can make the fast-paced plot even harder to follow.
Subtract the forced swearing permeating the dialogue and viewers are left with a drama/action/thriller that never gets as exciting, daring or surprising as it potentially could. Plot holes and a lack of character development combined with halfhearted acting make Runner Runner altogether forgettable.
To fans looking for their J.T. fix: look elsewhere. Timberlake should stop trying to be everywhere at once. His best performances came when he took a break from music, including films such as The Social Network and Friends With Benefits. Affleck, on the other hand, belongs in higher profile films, either on or behind the camera. Thankfully both stars are so well established that this can hardly be considered a bump in the road for either of them.
A gambling metaphor for the film that could easily appear in movie itself: Don't place your bets on Runner Runner. Its trailers are merely bluffing to hide a painfully predictable and unrealistic story line.