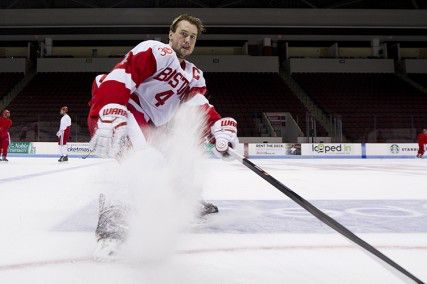 1. What songs are on your pre-game playlist?
A lot of country, a lot of heavy metal and a little bit of classic rock… Lynyrd Skynyrd.
2. What's your favorite movie?
"Warrior." It really gets me fired up. I watched it before the Merrimack game last year, and I almost had to go outside my room and fight somebody.
3. If you were a character from the Mighty Ducks, who would you be and why?
A Bash Brother, because they're very aggressive and I like their attitudes.
4. Who do you think is going to win the World Series?
(Eight second pause) I'll say the Red Sox so everyone is happy. I'm a Yankee fan, so I'm out of the playoffs here, so…
5. What has been your favorite class at BU so far?
Favorite class I would have to say is one of my communication classes with a professor who's very outgoing. It's a laid-back class, and you learn a lot – COM 321 [Mass Communication Research].
6. What's your favorite BU memory off the ice?
I think just hanging out with all of the guys every day off the ice to be honest – in the rooms and around the rink and stuff like that.
7. Who do you think is the funniest guy on the team?
With Sean Escobedo gone, I'm going to have to go with [freshman forward] Brendan Collier. His Boston accent is very, very, very thick. He's very talkative, which I like, very outgoing, and he just makes the boys laugh.