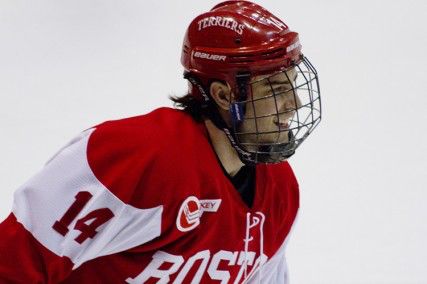 This is the story about someone who stopped at nothing to achieve his childhood dream. It's about a boy who grew up wanting to play for one of the most historic college athletics programs in the country, worked his way into the school, and started out as a practice player before finally seeing time in the spotlight in his senior year. He was told over and over he could not make it, but he proved the doubters wrong.
It sounds a lot like the story of Rudy Reuttiger, a former University of Notre Dame football player whose inspirational tale was recalled in the 1993 film 'Rudy.' This story, however, does not involve a steel mill, Touchdown Jesus or any young Vince Vaughn cameos.
This is the story of Jake Moscatel, a second-year senior on the Boston University men's hockey team – the team he dreamed of playing for his entire life.
A BU family
Going to BU athletics events was a Moscatel family tradition that dated back to when Jake's grandfather, Anthony Moscatello, was the director of BU Photo Services. Anthony brought his kids, including Jake's father Jim, to all of the BU football, basketball and hockey games. In fact, Jim can recall watching Jack Parker as a player for the Terriers when he was six years old.
Jim went on to attend BU just like the rest of his siblings, and when Jim had kids, it was only natural that he followed in his father's footsteps and took them to the BU hockey games.
"It's just been a big part of our life," Jim said. "When your whole livelihood and your family's income is directly from BU, it is a big part of us."
Jake, a Lexington native who inherited his family's love of the Terriers, grew up idolizing Chris Drury. He was also a pretty good hockey player, as several colleges were looking at Jake as a potential recruit while he was a 14-year-old at Belmont Hill High School. Even then, though, he was not interested in playing for another school. He wanted to be a BU hockey player.
At the time, however, playing for BU was not an option. The Terriers had a freshman class of 10 players and there was no space for him on the roster. So when Jake and his father talked to Parker about potentially playing at BU, Parker told Jake to play a year of junior hockey.
The detours
Jake joined the Boston Junior Bruins of the Eastern Junior Hockey League and scored 10 goals and six assists in 39 games with the team. While with the Junior Bruins, he played alongside several future Hockey East players and against future teammate Ben Rosen. The big takeaway from the year in juniors was the increased understanding of the game.
His year passed, though, and, once again Parker did not have an available spot for Jake on his squad. Instead of BU, Moscatel took an offer to play with the University of New England — a Division III school that was entering its first season in the ECAC-East. The year before Moscatel joined the team, UNE lost games against Boston College's and Northeastern University's club hockey teams.
It was clear from the beginning that Jake did not belong there. UNE only won three games in Moscatel's first and only season with the Nor'easters. He led the team with seven goals as a freshman.
"My dad — he was always saying, 'Jake, you should be playing [at BU],'" Moscatel said. "Even when I was at UNE, he was like, 'You should be playing hockey at BU.' It was almost like, 'Yeah, dad. Relax.' I knew I was good enough, but he always believed in me."
Instead of spending all four years playing for a startup D-III program, Jake decided to transfer to BU as a student. Getting into BU based on academics alone was not something Jake thought he could ever do, but sure enough, his dream school accepted him.
A foot in the door
Simply making it to BU was not enough to satisfy Jake, though. Moving to Boston only decreased the distance he had to travel to make it to Parker's office — a trip he made rather frequently.
"I don't know if it's embarrassing or not, but I probably walked into coach's office asking for a tryout about 20 times," Jake said. "It was one of those things where I think coach put me on the team because he was kind of sick of me. I kept asking for a tryout, and I think he eventually said, 'Let's shut this kid up and just give him a locker room stall.'"
Apparently, it took a long time for Parker to get "sick of him."Jake spent the next year-and-a-half playing with BU's club hockey team, a squad just about anyone at BU that owned a set of equipment could play for. The level of competition was a step down from the opponents he faced at UNE, but he was at least getting regular ice time and staying in hockey shape. Being in hockey shape was key for Jake, as he was ready to jump on his opportunity to join the team when it came.
That chance arrived in December 2011 after Corey Trivino was kicked off the team and Charlie Coyle left to play major junior hockey. A team that had been deep at the forward position was suddenly down to 14 forwards and seven defensemen, leaving a spot open for a practice player — something that Jake knew.
During a history class, Jake was sure to let then-captain Chris Connolly know that he was available if the team needed practice players. Connolly, who had played pick-up games with Moscatel before, told Parker about the offer. That was the only break Jake needed.
"[Connolly] knew I wasn't a complete slouch," Jake said. "So he went and talked to coach, and coach gave me a phone call, and the next thing I know, I was on the team."
Jake broke the news to his dad by calling him up and asking him what was going on. When Jim replied, "nothing," Jake casually remarked to his father that he had made the team.
"I have to admit when he called me up and told me, my jaw hit the ground," Jim said. "I went, 'What?' And sure enough, he was practicing the next day. It was a complete surprise to me."
Proving he belonged
Being a member of the practice squad was not good enough once he finally made it.
Jake wanted to get on the ice, but he was still behind multiple players that had been with the team since their freshman years.He was halfway through his junior year at the time and knew plenty of the players from pickup games and his time in junior hockey, but the rest of the team was in midseason form while he was busy playing catch-up. Jake even admits that he might have been a little out of place at first.
"You've got to fall in line with even some of the freshmen," Moscatel said. "You kind of feel like a rookie. You don't really know what to expect."
That junior season moved by quickly, though, and at the end of the year, Parker told Jake he might not need him back for his senior year. Jake stuck around for summer workouts, though, and he was good enough that he remained on the roster another season. His spot on the team was not necessarily secure, but he kept sticking around.
"He wanted to be on this team so badly that he was really nervous right off the bat, but once he got relaxed, you could see that, 'gee, he's starting to play pretty well.'" Parker said. "Now, you can see that he actually had some hockey skill other than just being the guy that was trying to work harder than everyone else."
Jake watched a lot of games from the press box and the stands until Jan. 4, when then-captain Wade Megan was out of the lineup with an injured shoulder. With Yasin Cissé leaving the team to play major junior hockey as well, the chance finally came for Moscatel to play a game for the team he followed his entire life.
"One of the most remarkable things I have ever seen in sports," Jim said about watching his son skate in a BU uniform. "I was just so proud — it was kind of a dream fulfilled. As a parent, I can't put it into words how wonderful it is to see your kid achieve his dream. That was amazing to me."
Jim claims to have cheered louder than everyone else in Matthews Arena combined when Jake scored his first career goal nine games later at Northeastern. Jake suited up in 15 games for the Terriers last season and played well enough that he was invited back for another year with the team. Since he had another year of eligibility, the 2013-14 season would be his second senior year.
"Had he done something a little differently, he might not be playing hockey," Jim said. "Instead, he [was] playing for Jack Parker, a storied franchise with one of the greatest coaches of any sport. He did it all on his own."
From walk-on to leader
New coach David Quinn has stressed the importance of his senior class to the success of his team in the upcoming season over and over. The term "senior" barely does Jake justice, though, as he will turn 25 years old in December. Jake, who played against 2007 Beanpot hero Brian McGuirk in high school, is five or six years older than some of his teammates.
"They kind of keep me young," Moscatel said. "You're playing with 18-year-olds and they kind of give you a little more energy than you're used to. I feel like I can be a leader and a mentor and they can also give me some fresh legs and give me a little energy."
Moscatel projects to be one of the bottom-six forwards on the team this year, a role that suits his hit-first style of play. One thing is for sure — he will play more than Rudy ever did.