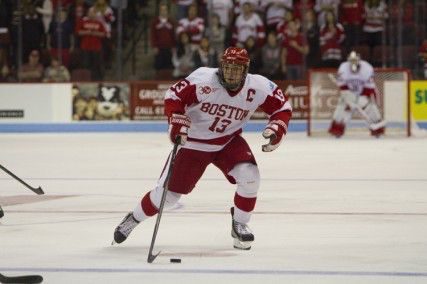 For Garrett Noonan, this season is different.
The senior defenseman has witnessed plenty in his first three years on the Boston University men's hockey team — scandal, teammates going pro, the first coaching change since the Vietnam War — but he has yet to experience the euphoria associated with winning a championship, that same euphoria felt by generations of former Terriers who were part of teams that won 29 Beanpots, seven Hockey East tournaments and five national titles.
So here he is, three years after first arriving on Commonwealth Avenue and days before the first game of his final season in scarlet and white, one of five seniors still looking for that elusive first trophy.
"I'm not one of those guys to look down memory lane," Noonan said last week in the bowels of Agganis Arena between practice and a lifting session. "It's been a hell of a ride, and I never would have chosen a different place — I'd come here 1,000 times again if I had the opportunity."
"Now, though, it's business time, and we have to leave something here."
Saturday, when the Terriers open at Agganis Arena against the University of Massachusetts, Noonan will officially embark on that quest, which began more implicitly last spring — March 26, to be exact, the day David Quinn was named the program's new head coach. Immediately after his introduction, Quinn met with Noonan and Matt Nieto one-on-one to discuss their plans for the 2013-14 season.
Neither player needed much persuading. Nieto had basically made up his mind to sign with the San Jose Sharks at that point, and Noonan was determined to see his college commitment through to the end.
What ensued was a newfound determination on Noonan's part to prepare for this fall unlike any other before it. He has been eating better, getting better nights' sleep, working out every morning — in short, he has heeded Quinn's advice about the lifestyle of a professional hockey player. Quinn knows, as Noonan noted, having returned to BU after working for the Colorado Avalanche the last three seasons.
This way, when Noonan, who has slimmed down noticeably as a result, likely signs next spring with the Nashville Predators, who selected him in the fourth round of the 2011 NHL Draft, he's ready.
"He's in great shape," Quinn said. "He's a guy that needs to be if he's going to play the amount of minutes we're going to need him to play. The way he plays, he's an up-and-down [the ice] player. He's obviously got a lot of skills. I couldn't be happier, and I hope he's as happy that he's back as I am."
Safe to say, Noonan is.
Noonan's love for the school began long before he was a student here, before even BU started actively recruiting him. Growing up in Norfolk, less than an hour south of Boston, Noonan grew up rooting for the Terriers for reasons he cannot pinpoint, other than that BU was one of the top teams around while he grew up. From the time he was born until the time he was a freshman, BU was in the Beanpot finals all but two years.
Even when Noonan went to watch his brother, Pat, play for Northeastern University at historic Matthews Arena from 2002 to 2006, nothing could compare to the lure of BU's Walter Brown Arena, where Noonan later player his high school home games with Catholic Memorial.
"I went [to Matthews] all the time, but I never loved it," Noonan said. "[BU is] always something that I've wanted and had a connection with. It was my dream school."
So when Noonan says that he wants to win, that he wants to leave a legacy, he means it. And when he says last season left a bad taste in his mouth, he means that, too.
Last year didn't exactly live up to Noonan's expectations. He finished with six goals — 10 fewer than he netted in his sophomore campaign — and 96 penalty minutes, 20 more than any of his teammates. It wasn't a step back, necessarily, since a blueliner's impact often can't be measured in numbers, but it was far from satisfying.
That's why Noonan has high expectations for learning under Quinn, a former BU defenseman who is heralded for his tactics at that end of the ice. Noonan pointed to his backward skating and one-on-one defensive zone coverage as areas that have already gotten stronger in limited instruction time with the new bench boss.
Noonan, who was named captain last week along with senior defenseman Patrick MacGregor, knows he has to grow more than just skills-wise.
"[Quinn] wanted me to be a leader," Noonan, who was also an assistant captain for the second half of his junior year, said. "I had done some things last year — some stupid penalty stuff — so it wasn't like I had acted like a leader. … I kind of let the emotions get the best of me and I didn't have as good of a year as I wanted to, so I have some making up to do."
That's why it all comes back down to the same goals: hoisting a trophy, giving Quinn that first championship, adding to the banners in the Agganis rafters.
"We haven't done anything since I've been here," Noonan said. "You think about all the great players who have played at BU, they've all done something great here and won some championships. It's about time our class does something like that. I think that's what unfinished business means. We haven't done anything. It's time to turn this program around."