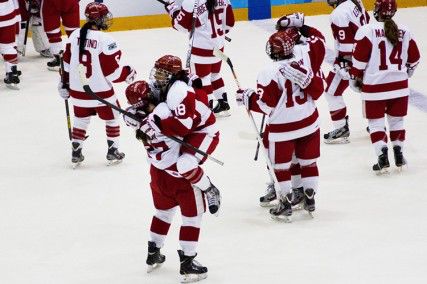 The No. 5/7 Boston University women's hockey team is certainly well-adapted to the spotlight.
Last season, the Terriers put up yet another successful postseason run, a trend that has made the women's hockey team one of the top athletic programs at BU in recent years. The Terriers have made the NCAA Tournament every year since 2010, advancing to the national title game in 2011 and 2013.
In 2013, BU cruised through the Hockey East Tournament and NCAA quarterfinal and semifinal before meeting an undefeated University of Minnesota squad in the national final. Just like every other team the Gophers faced last season, the Terriers could not come up with a win, falling 6-3, with Minnesota becoming the first women's hockey team in NCAA history to go undefeated in a season.
Nonetheless, BU has proven itself to be a perennial threat at the national level. This year, the Terriers — in addition to much of the Hockey East Conference — undergo a bit of a personnel makeover as the team commences its quest to replicate its recent dominance in collegiate women's hockey.
"I'd love to tell you that there's a whole bunch [of momentum] that gets carried over [from last year's postseason run], but it's probably balanced out by expectations at the same time," said BU coach Brian Durocher. "I think the experience we have of doing well in the playoffs here the last number of years and being in big games is something that will aid a number of our players, but now it's time for some new faces to take on a challenge."
Forward Marie-Philip Poulin, who led the team in points last season (55), will be absent as she plays for the Canadian National Team in the 2014 Winter Olympics.
BU is not the only team in Hockey East to lose a top player to Olympic duty — forward Alex Carpenter from No. 2 Boston College and Northeastern University forward Kendall Coyne will represent the United States at the Winter Olympics.
"We're surrounded by wonderful teams, and I know it's going to be a real competitive landscape as you look at the three kids who departed for the Olympics," Durocher said. "They all come off of the top three teams, and I think that brings everybody a little closer together. As the season gets rolling, I'm sure we're going to see a little parity and a great challenge for everybody."
A bigger challenge arises for BU in replacing its second- and third-best scorers from last season, forwards Jenelle Kohanchuk (46 points in 2012-13) and Isabel Menard (45 points), who graduated following the season's conclusion.
"I'm hoping Wayne Gretzky's got a year of eligibility, but I don't think that's going to happen," Durocher said jokingly. "It's a tall order, without a doubt, that when you lose players like that, you always hope you can turn around and recruit the same type of players. But they don't show up at your doorstep everyday. We still, as I mentioned, have some very good players here in house, but almost in a tier effect we've [got to have] people step forward."
One of those in-house players is sophomore forward Sarah Lefort, BU's top goal-scorer in 2012-13, who returns looking to duplicate her impressive rookie campaign. Lefort's 24 goals tied BC forward Haley Skarupa for the highest total among all freshmen in Hockey East. In addition to being runner-up for Hockey East Rookie of the Year behind Skarupa, Lefort was named to the USCHO.com All-Rookie Team.
Senior captain Louise Warren returns for the Terriers after a 15-goal performance in 2012-13. Junior forward Kayla Tutino also contributed 15 goals for BU last season.
Durocher said he expects improvement from sophomore forwards Dakota Woodworth (three goals, one assist in 2012-13), Rebecca Russo (one goal, four assists) and Jordan Juron (four goals, four assists), in addition to strong freshman seasons from forwards Maddie Elia and Samantha Sutherland.
An early blow this season to the Terrier defense is a torn labrum for senior defenseman Shannon Doyle. She will miss the entirety of the 2013-14 season after undergoing surgery to repair the injury. Doyle made up half of BU's best defensive pair alongside junior defenseman Shannon Stoneburgh and blocked a league-high 89 shots last season.
Stoneburgh, last year's Most Improved Player as voted by her teammates, is likely to step forward as a top defenseman in the absence of Doyle, along with senior assistant captain Kaleigh Fratkin and freshman defenseman Sarah Steele.
The backbone of the Terriers returns in the form of senior goaltender Kerrin Sperry, who was named Hockey East Tournament MVP after allowing three goals in three games, including a 42-save shutout against Providence College. Sperry was solid in regular season play as well, as her goals-against average of 2.20 was second in Hockey East behind BC netminder Corinne Boyles (1.83 GAA).
BU was selected by Hockey East coaches to finish second in the conference behind rival BC. However, Durocher said he feels the Terriers are capable of finishing atop the Hockey East with some hard work.
"I think we're going to be a little bit of a different team, [but] still a good team," Durocher said. "…We're going to have to fight for every inch we can get, every shift's going to be important, and it's going to be a challenge for us from top to bottom. But the kids are ready to play. The kids don't assume they can have a bad period or a bad game and come up with the win."