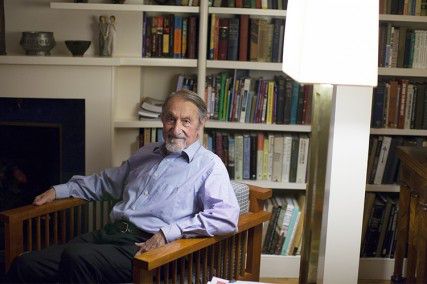 Harvard professor emeritus Martin Karplus received the 2013 Nobel Prize in chemistry on Wednesday for the development of multi-scale models for complex chemical systems forty years after beginning his groundbreaking work.
"I was very pleased," Karplus said. "I've been told by all the emails I've gotten that people have been waiting for me to get the Nobel Prize for 20 or more years, but you never know when it's really going to happen, and it did this time."
Karplus shares the prize with Michael Levitt, professor of computational structural biology at Stanford University, and Arieh Warshel, professor of chemistry at the University of Southern California.
Their research began in the 1970s when Karplus, Levitt and Warshel created computer models of molecules to pinpoint specific parts of a chemical process, according to a Wednesday press release from the Royal Swedish Academy of Sciences, the organization in charge of distributing the Chemistry and Physics Nobel Prizes each year.
Because of the their research, many scientists have been able to foster programs that unveil and predict chemical processes including the purification of exhaust fumes and the photosynthesis in green leaves, according to the release.
"The work of Karplus, Levitt and Warshel is ground-breaking in that they managed to make Newton's classical physics work side-by-side with the fundamentally different quantum physics," the release stated. "Previously, chemists had to choose to use either."
Leigh Foster, laboratory research assistant to computational chemist Professor John Straub at Boston University, said Karplus's recognition has vast implications for computational science.
"Having the Nobel Prize awarded [to Karplus] says that there have been enough things that come out of this type of work that are important and that have been huge developments," she said. "I think that does a lot in terms of … shining a spotlight on [theoretical computational chemistry]."
Foster said the award is hugely justifying to those who work in the field of computational chemistry and could help the study gain prominence and appreciation from students and professionals within the scientific world.
"The kind of risks that you have to take to do something that has enough of an effect on the field as well as the world around you in general to even be in the running for [the Nobel Prize] are great," she said. "You really have to step outside of things that have been done before to do something that changes everything."
Several professors and students both within Harvard's chemistry department and in the larger scientific community congratulated Karplus on his achievement.
Theodore Betley, professor of chemistry and chemical biology at Harvard University, said he was not surprised by his colleague's victory.
"Karplus made enormous advancements in theory, and the award was richly deserved, if not long overdue," he said.
William Klemperer, a professor at Harvard who has been working in physical chemistry for more than 50 years, said Karplus deserved the honor.
"I think that his research has been quite appreciated by a broad range of chemists," he said. "This highest recognition is just going to reinforce the opinion of those interested in these types of problems more strongly."
Paul Brumer, a chemistry professor at University of Toronto who studied under Karplus, said Karplus not only furthered his understanding of the theory and applicability of computational chemistry, but he also taught him how to experiment independently.
"I came out [of Harvard's graduate program] feeling that … I could really accomplish [anything] if I really worked at it," he said. "That was a fantastic educational experience, and I try to do the same thing with my students. I try to give them the right amount of freedom and the right amount of guidance."
Klemperer said that in addition to honoring Karplus' accomplishments, the Nobel Prize win bolsters Harvard's reputation as well.
"I think it [Karplus' achievement] will reinforce the acclaim that Harvard gets for working in this area of understanding," he said. "And so this strengthens the idea of having a department of chemistry and chemical biology."