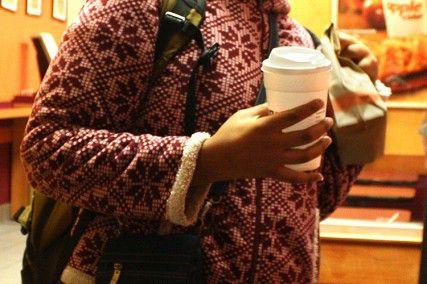 Businesses in Brookline are attempting to figure out how they will stop using polystyrene products due to a ban implemented by the town that will be take effect on Dec. 1.
"[The ban] affects about 350 businesses," said Alan Balsam, director of public health and human services for the town of Brookline. "All food service operations are affected. It will include all polystyrene packaging, cups, lids, plates and it will also include packaging of meats, poultry and fish that are packaged on site at Brookline supermarkets."
This ban would affect Boston University students who live in off-campus apartments in the Brookline area. Students frequent several businesses and food services that use such products on Beacon Street near South Campus, including Dunkin' Donuts.
Balsam said polystyrene, which is often used in Styrofoam, is a material that is not readily recycled or easily compostable, making it a target in the movement toward reducing environmentally damaging materials. However, alternatives are expensive.
"It's difficult and more expensive to replace [polystyrene] containers, but there are product lines that don't contain polystyrene that we want to encourage people to look at," he said.
Nancy Daly, a Brookline selectwoman who was a member of the board that recommended the ban, said the Town of Brookline has been working with businesses during the review process of this policy and found that taking this step toward greater sustainability is very possible.
"[Brookline's] health department went around and talked to various people who would have to comply with this [ban] to see whether they thought they could do it, and generally, it seemed like there were alternatives," she said. "The alternatives might be slightly more expensive, but it didn't seem like there would be a big difference in cost."
Dunkin' Donuts is facing problems with the ban as they attempt to find an efficient way to replace polystyrene in their Brookline stores.
"Dunkin' Donuts began testing a double walled-paper cup in our Brookline restaurants months ago," said Scott Murphy, chief supply officer of Dunkin' Brands, Inc., in a Tuesday statement. "We believe the cup we are testing in Brookline will be a good interim solution in municipalities that have banned foam."
As the deadline to cut polystyrene looms, Balsam said there is a temporary solution that some businesses may have to take if they continue to struggle through the transition. Six-month waivers may be requested to extend the deadline into the spring of 2014 if certain businesses are unable to make the switch or have not exhausted their supplies of polystyrene containers.
"I suspect there will be more than a few requests for a six-month waiver from the ban, and I will entertain those requests," Balsam said. "My inclination for the first waiver is to grant that waiver, and then to assist them in identifying an alternative product during those six months."
Ken Goldstein, Brookline selectman, said although the town will be lenient with its deadlines, as businesses continue to figure out how they will complete the transition, the town will enforce the ban.
"The board of selectmen does not want to see any vendor within the town to suffer financial loss as a result of this new program," he said. "If more time is needed … because vendors have large inventories of polystyrene cups still, it's my opinion that the town should be flexible and shouldn't go around fining any vendors until a reasonable amount of time is afforded to them."
Some residents said the styrofoam ban would have a positive impact on the environment.
Francesco Chieregatti, 22, resident of Brookline, said he was concerned about hot beverages retaining their temperatures.
"I came in [to Dunkin' Donuts] thinking they'd have Styrofoam cups and they didn't," he said. "I am buying it for a friend, so I'm trying to have it hot as long as possible. There are some inconveniences, but I approve in what they're doing and that they're moving toward being environmentally friendly."
Jitesh Kuyyalil, 31, resident of Brookline, said he thought the ban was a good policy move because of the environmental impact it will have on the community.
"[These policies] are long-lasting things rather than just taking care of businesses," he said. "For the long-term for any country, you need to take care of the environment. "
Corey Civin, 26, resident of Brookline, said the businesses should be ecologically responsible.
"If you're going to run a business, it's your duty to be ecologically responsible," he said. "So even if it ends up costing you a few extra cents and digs into your profit margin, I feel like it's what you have to do."