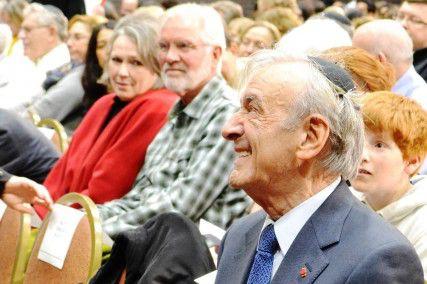 Boston University faculty member Elie Wiesel's annual three-part lecture series has been canceled for 2013 as a result of Wiesel's health issues, said Michael Zank, director of the Elie Wiesel Center for Judaic Studies.
The first of the three lectures was originally scheduled for Monday evening.
Wiesel, a Holocaust survivor and 1986 Nobel Peace Prize recipient, has been giving lectures at Boston University since 1976, said BU events coordinator Christina Kotkowski. So far, there are no plans to reschedule Wiesel's lectures, she said.
Zank said Wiesel, 85, has been sick over the course of the year and did not feel strong enough to conduct his lectures this year.
"He's [Wiesel] healthy, but he's weakened," Zank said. "He was just not up for it. I talked to him, he sounded upbeat … I hope he will give a lecture later this year or that they'll pick up again next year."
Wiesel typically lectures about human appeal interests, Zank said. In 2012, Wiesel tackled martyrdom, the prophet Ezekiel of Jewish culture and existentialism, among other themes. He said Wiesel's lectures this year were slated to be about tragedy and suffering.
"He is a literary author and a literary scholar, and he takes these texts from Jewish tradition, or simply out of the history of literature, and is just able to connect to these texts," Zank said. "You sit there with rapt attention and you just soak it up. It is amazing what he can bring out of these texts."
Zank said over the past three decades, Wiesel's presence on campus has greatly impacted the BU community.
"They [Wiesel's lectures] have been held for almost 40 years now," Zank said. "I'm hoping that lots of people will write to us and reconnect, and just give him a sense of how important he is to BU … We've been relying on him being here, but he is 85 years old. It may be time for us to give back."
BU spokesman Colin Riley said Wiesel's lectures have been the most anticipated and popular lectures at BU since they began in 1976. More than 1,000 people attend his lectures in the Metcalf Ballroom.
Riley said one of Wiesel's lectures was postponed in the past because of bad weather. He said this year is the first time he can recall where one of Wiesel's lectures has not been held.
"We just wish him well," Riley said. "We send our best wishes, and it is just sad that this very popular series had to be canceled. We know that all the students and faculty members of the BU community send him our best wishes as well."
Joel Udwin, Florence and Chafetz Hillel House at BU student board president, said Wiesel's lectures are a great community building opportunity for BU, and he was upset to hear Monday's lecture was canceled.
"It [Wiesel's lectures] brings a lot of people together over a common topic, and it is exciting for that month to talk about this topic, which you've probably never talked about generally," Udwin, a School of Management senior, said.
Sarah Close, vice president of BU Students for Israel, said Wiesel's lectures have had a great impact on the BU community. She said it has been a privilege to hear Wiesel speak in the past.
"The fact that he works for BU is one of the reasons I came here in the first place," Close, a College of Arts and Sciences senior, said. "He's just a living historical figure — he's an international treasure to have someone alive who can speak for his experiences of the Holocaust."
Leora Kaufman, president of BUSI said Wiesel's lectures have inspired students through his urgency for peace and humanistic values. She said she hopes Wiesel is able to continue his three-part lecture series in the future.
"One thing he [Wiesel] said [in a lecture] that really stuck with me, one of my favorite quotes today is, 'Think higher, feel deeper,'" Kaufman said. "It is just amazing to have this heroic role model, who used to teach at BU, to come to this school just for the purpose of inspiring us and sharing a story he hopes will never be forgotten."