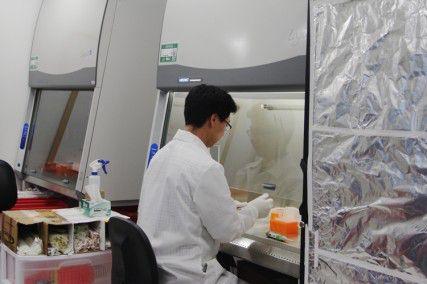 After receiving approval from Boston University officials in the summer, BU's College of Engineering launched the Center of Synthetic Biology this fall, said Ahmad Khalil, the new center's associate director.
ENG launched this new center, located at 36 Cummington Mall, to focus on the emerging discipline of synthetic biology, Khalil said.
He said the Center of Synthetic Biology, also known as CoSBi, was created to expand the educational outreach initiatives for those studying synthetic biology.
"The College of Engineering has decided to launch this center because of the promise the field of synthetic biology has and for educating the next generation of researchers in this area," Khalil said. "The College of Engineering recognizes strengths of synthetic biology among faculty."
According to a Wednesday press release, the newly-launched CoSBi will collaborate, develop and support large-scale synthetic biology projects. The center will also organize annual symposiums, which will feature prominent synthetic biology researchers from around the world.
The center received initial funding through a connection with ENG Dean Kenneth Lutchen,  Khalil said. He also said center officials plan to obtain more funding through external grants from the National Institutes of Health, the National Science Foundation and various other synthetic biology companies.
"I am looking forward to the center being impactful on the global scale," Khalil said. "We have great vision and great faculty."
In addition to Khalil, the three other core faculty members working in the lab space are James Collins, director of the Center of Synthetic Biology and ENG professors Douglas Densmore and Wilson Wong, Khalil said.
Densmore said competition with other leading universities propelled BU to launch a synthetic biology center. He said center officials will develop a synthetic biology curriculum for students, and will teach students the computational and experimental pieces of synthetic biology.
CoSBi has been operating in part since January 2013, Densmore said. He said the new center has enabled ENG to apply for funding that they were not eligible for in the past.
"Some of these grants you couldn't apply for without evidence of institutional support, which is necessary for funding mechanisms," Densmore said. "… The other things are just helping momentum. It has given us staff — there are people to organize."
Wong said the center's application of synthetic biology sets it apart from research centers at other schools.
"We are in synthetic biology, but we don't do the exact same thing [as other schools]," he said. "Khalil works on transcription factors, and we can apply technologies to engineer T cells. Densmore is developing computational tools to engineer cells more effectively. We definitely have a chance to make a worldwide impact."
Saki Shimada, an ENG senior, said although this new center will not be of use for the entire student community at BU, it will greatly help the BU engineering community.
"Any opportunity that can allow us to research or just pursue what we are interested in … that's the benefit for not only engineering students, but also other students in other schools who are interested in research," Shimada said.
Tao Tu, an ENG freshman, said synthetic biology is the greatest strength of BU's entire engineering program. He said this new center is slated to help improve synthetic biology research further at BU.
"BU is really strong in this area, and this presents opportunities for students to participate in research, and most of students in my year are coming to BU for synthetic biology," Tu said.
Winnie Wong, a second-year ENG graduate student, said CoSBi will allow people from different disciplines to collaborate on synthetic biology research.
"The awesome thing about this synthetic biology lab is that you are not a part of one lab, you are a part of three or four labs, so you get to sit in on lab meetings and hear about ideas you normally wouldn't be exposed to," she said. "Research-wise, it's [synthetic biology] a new field, so you get to create your own research direction."