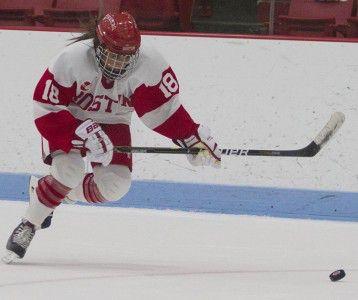 The Boston University women's hockey team will play its first regular home season game Saturday as it hosts Yale University at Walter Brown Arena.
The Terriers (2-1-1) fell out of the USCHO rankings for the first time since Jan. 30, 2012, after a 3-0 loss to Robert Morris University last weekend.
BU coach Brian Durocher said that given the youth of his team, he is not overly concerned with being dropped from the rankings.
"It's certainly something that you'd love to have every week of every year, but there are going to be be ups and downs as a team," Durocher said. "We've had an okay start, but relative to what you have to do to be in the top 10, we haven't quite carried it on at that level. This year is sort of what I call building blocks, with a lot of new faces, people playing the power play, killing penalties, being out there in the last minute of the game who probably haven't been out there that often, if at all in those situations.
"We have to each day keep getting better and learning lessons and playing as hard as we can. Up to this point, we've done a pretty good job of doing that, but again, when there's new faces and new people, it takes a little bit of time. I'm not too concerned with what happens now."
Walter Brown might be the perfect place for BU to get back on track, as the Terriers had plenty of success at home last season, posting a 17-2-0 record.
"It'll be great," Durocher said of playing at home. "It's another chapter in the young kids' lives, it's their first time playing in an NCAA game. We had the exhibition game, but this will be a little different playing Yale and playing another Division I college team in the U.S. So it'll be exciting for them, it'll be fun, again, some of our sophomores who have really graduated to key roles, they're going to be in a little different setting than they were last year."
One of those players who has found a new role is sophomore forward Rebecca Russo, who leads the Terriers this season with three goals and an assist so far this season. Her classmate, forward Jordan Juron, has tallied one goal and three assists.
While Durocher said he is pleased with the sophomores who have made strides, he noted that some of the experienced players will need to step up in order for the team to truly succeed, including junior forward Kayla Tutino, sophomore forward Sarah Lefort and senior captain Louise Warren.
"I'd love to see the whole team step up, and it's kind of a crystal ball if you're going to pick somebody to step up," Durocher said. "But if you're putting a group together, it would probably be the veterans … those are the kind of people you have to count on the most, who play well and lead by example. It's not always on the score sheet, it can just be how determined they are, how smart they play, and that will add up in the results."
Yale (0-1) has had a short season thus far, falling to No. 4 Boston College, 4-3, on Saturday in its only game of the year.
Freshman Krista Yip-Chuck, fellow freshman Phoebe Staenz and forward Jamie Haddad all notched goals in the loss. Staenz also had an assist in the contest.
The Bulldogs come into the 2013-14 season following a lackluster 5-21-3 season in 2012-13. No one on that team cracked the top 50 in scoring in the ECAC, and only one player ranked in the top five in any offensive category — Haddad, who was third in the conference with five power-play goals. Haddad led the team with only seven goals last season.
Regardless of the Bulldogs' subpar statistics, Durocher said his team will not take anything for granted.
"You don't ever want to disrespect an opponent," Durocher said. "I think they're a program that's moving forward. It doesn't happen overnight all the time, but we also are somebody who may not have as many weapons as we had last year, so we've got to play five or 10 or 15 percent harder than we did last year and good results will happen. Let's make sure we respect them most importantly, and we're ready to play."
For Durocher, the goal in Saturday's game is to continue to learn how to give a full effort.
"The thing is just for everybody to learn how hard they have to work," Durocher said. "… There's going to be nights when for different reasons you can't be on your A-game, but you can work hard just about every single night.
"… We've got to make sure to continue to learn how hard we have to work and really what hard work is. It's not taking a shift off, it's definitely not taking a period off, and we've had a couple times we've had slip-ups there. I feel like a couple times we've had periods where we couldn't shut the faucet of negativity off."