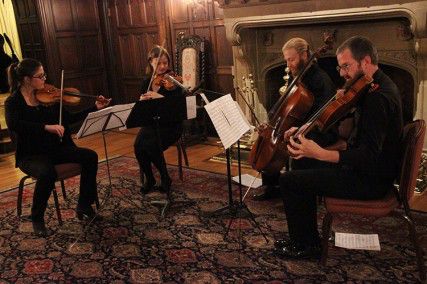 Members of the Boston University community gathered at a memorial service and reception Monday evening to honor the life and career of late philosophy professor Krzysztof Michalski.
About 40 people attended the memorial, which was held in The Castle at 225 Bay State Road.
Michalski was a professor of philosophy at BU and at the University of Warsaw, as well as the founder and rector of the Institute for Human Sciences in Vienna, Austria. Michalski died in February at age 64 after battling with prostate cancer.
BU professor of religion and philosophy Alan Olson, and St. John's Seminary Bishop Arthur Kennedy spoke at the memorial. Following Olson and Kennedy, BU professor James Dodd discussed Michalski's book, "The Flame of Eternity: An Interpretation of Nietzsche's Thought."
"Krzysztof was this remarkably unassuming guy," Olson said. "… He was so easy to get along with and to talk to. Nobody knew that he had this really nasty case of prostate cancer. Usually, prostate cancer can be handled, but not when you're young. The younger you are the worse it is."
Kennedy said there has been a series of memorials in honor of Krzysztof, which aim to capture his wisdom, character and humor. He said the establishment of IHS, an independent institution for advanced study in social sciences and humanities, was one of Krzysztof's most notable achievements.
"That [IHS] has been a very great program here in Boston," Kennedy said. "It [IHS] has been wonderful for the university, and it meant that Krzysztof came here to teach each fall, and that numerous undergrads and graduates were able to share in the academic and practical adventures of this remarkable institute."
Since its conception in 1989, Olson said Michalski's institute hosts about 50 fellows and guests from different disciplines each year. These fellows are sent to Vienna to work on projects of their own choice.
"The institute was the leader in being able to bring people who were at dissonance themselves as Krzysztof had been, to bring them to Vienna in order to have them prepare to become people who could replace those who lived under the ideology of the communist and Marxist structures," Olson said.
Maria Leao, BU graduate and former student of Michalski, said Michalski had a remarkable dedication to his institute. During his career, she said Michalski protected the institute from the pressures of its large, outside donors.
"If I have to use one words to characterize Krzysztof, I would chose the word 'integrity,'" Leao said. "… It takes courage and great skill to accomplish what he accomplished. To preserve that independence, and I think the extraordinary institution that he leaves behind truly embodies the values of independence and openness and it is, in fact, a testimony to his courage and his integrity. I will miss him a lot."
Lydia Voronina, one of Michalski's students, said BU was a substantial component of Michalski's philosophical projects. She said he taught as a Socratist, who made his students think deeply about philosophical ideals.
"What we are left with now is his [Michalski's] heritage, which embraces his method and manner of teaching philosophy," Voronina said. "Books and articles he wrote, projects he started and institutions he created — I believe that the best way to commemorate his life and his philosophy would be to keep this breach between Boston and Vienna open, and make the traffic on it as busy as possible."
Dodd took Michalski's courses when he was a graduate student of philosophy at BU in 1990, which he said were intense and extremely challenging in nature.
However, Dodd said Michalski never failed to punctuate his lectures with occasional flashes of humor. A sense of humor was just one part of Michalski's complex personality, Dodd said.
"There are of course aspects of Krzysztof's personality, intellectual and otherwise, that I never understood at all," Dodd said. "No one, for him [Michalski], is ever forgotten; everyone counts, and for all eternity … I will always remember Krzysztof Michalski … with the deepest gratitude and respect, and I will miss him as a friend."