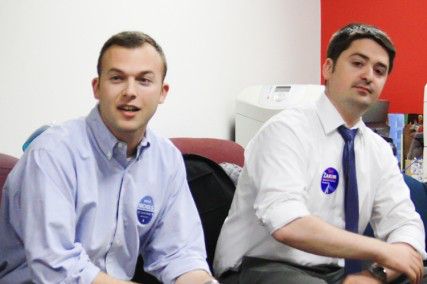 This is the third part in a series of profiles about the candidates facing off in the Nov. 5 election.
In addition to the mayoral election, the District 8 race for City Council is also in full swing. Attorney Michael Nichols is running against lawyer Josh Zakim to fill former mayoral candidate Michael Ross's seat, with his campaign focusing on using his policy research to their advantage.
Nichols worked as a chief of staff for the State House, and currently serves as the research director for the City Council. Nichols said this experience in legal and policy research has prepared him for the responsibilities to be a city councilor.
"I'm actually the only one left in the election that has any city government experience or state government experience or civic association experience," he said. "I think that something that District 8 has long shown is a desire to have people who know the intricacies of public policy and work to make people's lives better for it."
Nichols said he plans to begin with a focus on public education, late night public transportation and affordable housing.
"Not just low income affordable housing, not just middle income," he said. "No matter what amount of money you're making, or if you're not making any money at all, you should have access to affordable housing in Boston."
Suzanne Schlossberg, Nichols' campaign manager, said that if elected, Nichols plans to cater to multiple parts of the district at once so there is constant progress and development.
Because of the mayoral election, voter turnout was low in the District 8 primary on Sept. 29, but Schlossberg said this election is important because changes in city government will impact residents' lives.
"City services are often overlooked, so electing a city councilor is truly important in terms of making sure you have a voice for yourself in city government," she said. "For [Nichols], a lot of the changes are improving upon and making sure that we're not leaving behind certain things, improving our city services … and constantly reassessing and reevaluating so that we're never getting stagnant."
Nichols said his goal is to make the district, which includes Boston University as well as the Back Bay, Beacon Hill, Fenway, Kenmore Square, Mission Hill and West End neighborhoods, better for the people who live there.
"District 8 is the premiere area of Boston," Nichols said. "So I really want to make sure that, particularly District 8, but the city as a whole, continues to get better, that the quality of life improves, that people want to raise families here, they want to study for college here [and] they want to live here, work here, visit."
Adam Barrett, business analyst for Boston Scientific, is one of many people who have endorsed Nichols.
"Mike [has] so much knowledge of how the city government works and he wants to make sure government works for everyone," he said. "He is up before the sun and working late into the night to reach voters and address their concerns."
Christopher Freiss, the Democratic committee secretary for Boston Ward 10, said Nichols' experience with the government will make him the best candidate for the position.
"Politics should be about whose ideas are the best, not who you know best," he said. "If I had to use one word to describe Mike or his priorities, it would be substantive and that's how you get things done right."
Nichols said he hopes through his policy initiatives, he can improve the quality of life for all members of the district, including students who may not be registered to vote in Massachusetts.
"To say that you're just a student or your campus is a bubble, which most people have said, we need to sort of break out of that," he said. "These students should care because this is their city too.  Their time in college will change them most likely and they'll want to have a good city to share it with."