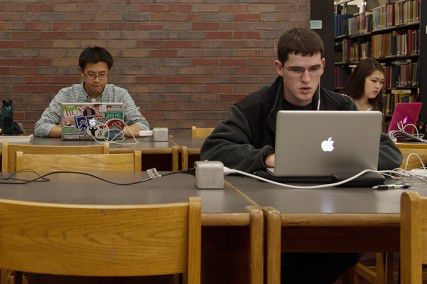 In an initiative that Boston University officials said will increase global access to higher education, online learning platform Coursera has announced that they will be partnering with the U.S. government and other organizations to create "learning hubs" across the globe for people to take free online courses with facilitators.
A step up from increasingly popular massive open online courses, the hubs will offer face-to-face instruction as well as improved Internet connection where technological access is limited, Coursera officials said in a Thursday blog post.
"It levels the playing field," said BU School of Education Educational Media and Technology Specialist Bob Thomas. "It opens up education to everybody, and it's a wonderful way [to do so]. In general, the massive open online courses are a wonderful way to tap into some of the expertise available."
Coursera and partnering organizations will bring learning hubs to more than 30 spaces worldwide. Locations include Mountain View, Calif. as well as other major cities such as Cairo, Prague, Shanghai, Moscow, Buenos Aires, Argentina, and Mumbai, India.
"Coursera's Learning Hubs initiative aims to extend opportunities for students to connect to a great education," said Coursera President Lila Ibrahim in the blog post. "Together with leading organizations, we hope to empower local communities worldwide with technology access, content facilitators, and a peer group of learners based on existing infrastructure."
In May, Boston University officials announced that BU would be offering MOOCs after joining an online learning platform called edX.
Co-chair of the Council on Educational Technology and Learning Innovation Elizabeth Loizeaux said that while edX is a not-for-profit organization and Coursera is a for-profit organization, the platforms share similar goals.
"Both edX and Coursera are actively experimenting with the educational possibilities for online technologies," she said in an email. "Both are interested in expanding access to higher education."
Online education is important for BU's future, Loizeaux said. BU officials are continuing to develop the MOOCs, which will be taught by faculty including College of Arts and Sciences professor of English Robert Pinsky, CAS professor of international relations Andrew Bacevich and CAS professor of astronomy Andrew West.
"Online technologies hold the promise of increasing the flexibility of education for students and faculty, of improving quality and of expanding access," she said.
Online education initiatives such as Coursera's learning hub project require instructors plan better plan content for courses, Thomas said.
"It offers people convenience and self-paced education," he said. "It also requires and mandates careful thought in planning in the courses. The same courses I taught, I now teach online, and I'm surprised at how much work it requires to teach the course online and how much it causes me as a teacher to think about what's important, what to teach and how to present that online."
While online education is helpful in some contexts, educators at BU and other institutions must continue to improve methods for learning technologies, Thomas said.
"You still need people asking questions about what works in online education, what works, what is effective and what's not effective," he said. "We need to be studying it and looking at it from that sense."
School of Theology graduate student Terri Haas said she would be interested in using one of Coursera's learning hubs if it was available to her.
"You can learn a lot of information, but you have to be a little more motivated to do online learning than to be in class," she said.
School of Hospitality Administration freshman Nicolette Prouty said the learning hubs address the problem common problem among online courses of lack of face-to-face interaction.
"Personally I like classes better because you have interaction with actual people instead of just a computer," she said. "Because if you have an actual professor there, they are there to explain things to you, whereas if it's online, if you don't understand something, there's no one to help you with it. [Learning hubs] would be good because you can talk to people in the same class as you and you can help each other out."
College of Arts and Sciences freshman Kianna Shore said she would be interested in taking an online course to supplement her education.
"I took an online course through university at my high school last year and it proved to be effective," she said. "I like to go at my own pace and study at the times I want to study rather than a formal classroom."