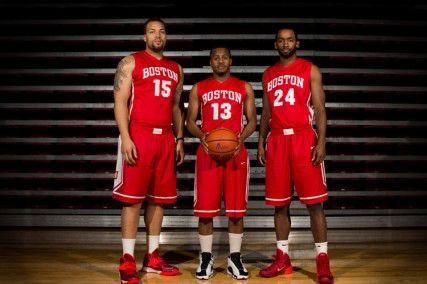 On March 19, the Boston University men's basketball season came to an unfortunate end when they lost to what will soon become a new Patriot League foe in Loyola University-Maryland during the opening round of the CollegeInsider.com Postseason Tournament.
Nearly eight months after their disappointing loss to Loyola, there is nothing but positivity surrounding the Terriers as they get ready to begin their first season in the Patriot League.
Just a few weeks ago, at the Patriot League media day in Bethlehem, Pa., it was announced that the Terriers were unanimously selected as the top team in the conference.
"I think our guys and our staff are used to that," said BU coach Joe Jones. "When we first got here, we were picked to win, so it's not uncharted territory for us, it's what we deal with, it's who we are and I think at BU, a lot of our sports are picked to be successful. I just think it's part of the culture here at BU and I think our guys have embraced it."
For Jones, there isn't much added pressure going into the 2013-14 season, as much of the concern in the locker room revolves around the team's inexperience in the Patriot League.
"It's just more of the newness, there's going to be a lot of firsts for us and we're going have to deal with that," Jones said. "There will be teams that are going to have to deal with us. It'll be much more of an adjustment for us than other teams because they've played against each other in the past."
Last month, it was announced that BU would take part in the Coaches vs. Cancer Boston Tip-Off, which will feature games between BU and Northeastern University, Boston College and the University of Massachusetts-Amherst and College of the Holy Cross and Harvard University.
The triple-header will take place Sunday and will also serve as the Terriers' first game of the season, making it the fourth year in a row in which BU and Northeastern will face off to start the basketball season. So far, this season-opening series has been relatively one-sided, as the Huskies have defeated BU in the previous three meetings. However, each game has gone down to the wire, as each have featured drama such as overtime or a buzzer-beater shot.
"I guess with TD Garden, it does pump it up a little bit more, but this game already is going to be hyped and emotional based on the fact we open with Northeastern every year and it's a big rivalry," said BU senior captain Dom Morris.
With other games against opponents such as the University of Connecticut, the University of Maryland and Harvard in the early stages of the season as well as schools such as Lehigh University and Bucknell University during conference play, the Terriers will definitely have their hands full.
"I think we wanted a schedule that was both challenging and a schedule that we could learn about ourselves from to prepare for the league in January," Jones said. "This year we hope to have some more success with the non-conference schedule."
A key for the Terriers to survive against the tougher teams this season will be their depth.
Some new faces on the team that will be expected to make an impact right from the start are freshmen Dylan Haines and Cedric Hankerson. Haines is a 6-foot-11 center that is expected to finally give the Terriers a big presence on the court. Hankerson is a highly touted recruit out of Miami, Fla., that struggled early in the preseason, but has turned it around as the season approaches.
"I think Cedric's been terrific," Jones said. "In the last three or four weeks, he's really come on and I've been really pleased with his play. An important part of our journey right here is going to be the development of our bench, and the things those guys can provide on a consistent basis to help us become the team and program we want to become."
The Terriers also received two sophomore transfers in the offseason. However, they will not be able to contribute this season. Guard Eric Fanning, whose career started at Wagner College, and Blaise Mbargorba from Southern Methodist University are expected to make a great impact on the team in 2014-15. Unfortunately, they cannot play this year due to NCAA transfer regulations.
Despite all of the positivity surrounding this year's BU team, the Terriers need to beware of injuries this season. Going into the season, the Terriers will be without three crucial role players. Junior forward James Kennedy, sophomore forward Justin Alston and Haines will have to watch from the sideline on Sunday afternoon.
"We're just hoping we can hold together until we can get some depth back," Jones said. "But we like the guys that are healthy and we'll go to battle with those guys."
Even with the setback as a result of injuries, the Terriers remain in good shape as they get ready to open what should be a spectacular inaugural season in the Patriot League.
"I think what I would highlight about this group is their togetherness, their unselfishness," Jones said. "It's very good, it's the thing that I think separates them from other teams that I've coached and I think that's the whole key to our success. If we're unselfish and continue to care about each other and work hard, I like our chances."