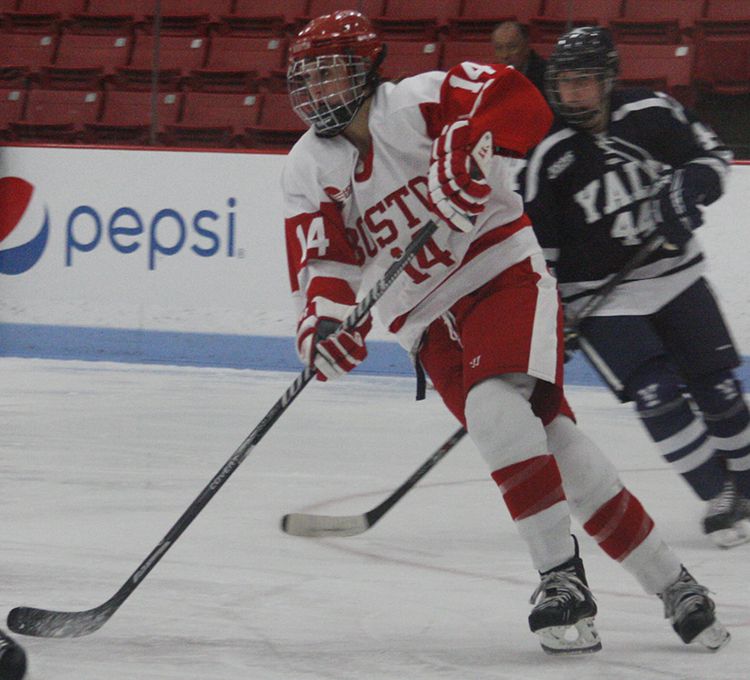 Following her phenomenal four-point effort for the No. 8 Boston University women's hockey team against the University of Maine on Saturday and her six-point tally in three games last week, it was only a matter of time before freshman forward Maddie Elia was awarded the Hockey East Rookie of the Week.
The accolade for Elia was officially announced Monday afternoon, when the Terriers were also named the Team of the Week for the second straight week.
Elia, a native of Lewiston, N.Y., assisted on all three game-winning goals last week as the Terriers (9-1-1, 6-0 Hockey East) swept their trio of matches last Wednesday against the University of Connecticut and Saturdayand Sunday versus the Black Bears (0-7-3, 0-3-3 Hockey East).
BU coach Brian Durocher has been impressed by the poise that Elia has displayed in her first year with the Terriers.
"She's obviously shown everybody that she's comfortable at this level of play," Durocher said. "The one thing that sticks out is that because she has such great reach and super-hand skills, she tends to beat one or two people almost every game. Going on a one-on-one or a two-on-two, to walk by a defenseman at this level is not very easy.
"When you can do that, you quickly create odd-man situations and she's done that just about every game we've played this year, so that would certainly be her strength that I've noticed in the early part of her college career."
Sperry posting career-best numbers
Senior goaltender Kerrin Sperry has been a backbone for the Terriers throughout her college career. Through her consistent performance, Sperry has always given her team the chance pull out a victory.
While Sperry was good for BU during her first three years between the pipes, the North Reading native has saved her best for her final year with the Terriers.
Through the first 11 games, Sperry is posting numbers significantly better than her career averages, sporting a 1.42 goals-against average with a .950 save percentage while notching an 8-0-1 record. Her previous bests in GAA and save percentage came in her freshman campaign when she had a 1.63 goals-against average and a .929 save percentage.
Durocher believes that Sperry leads the Terriers, both on and off the ice.
"Her leadership is in how hard she works," Durocher said. "Everyday, she's very committed to her off-ice training, to her preparation and it's not just in sports. The way that she handles herself in school, somebody who is fully involved in the [Army] ROTC program, has taken graduate level classes, again, it speaks volume for what she does and how hard she works in all facets of her life."
Offensive success predicated on passing the puck
Since being shut out against Robert Morris University on Oct. 19, the offensive attack for the Terriers has been incredibly impressive. BU is averaging 3.5 goals per game, including 5.25 in their last four matchups.
While the pure number of goals has impressed Durocher, the number of different players showing up on the score sheet has been more important to him.
"I think the fact that everyone is chipping in is nice," Durocher said. "Whether it is [sophomore forward] Rebecca [Russo], [sophomore forward] Jordan [Juron] or [sophomore forward] Dakota [Woodworth] scoring or it's [freshman forward Samantha] Sutherland scoring. Obviously [sophomore forward Sarah] Lefort and [junior forward Kayla] Tutino, they've been cashing in. Maddie Elia had a big night [Saturday against Maine].
"I think if you can keep rattling off names, six different scorers yesterday and different scorers today, I think that's the answer to the question right there. A lot of people are getting involved."