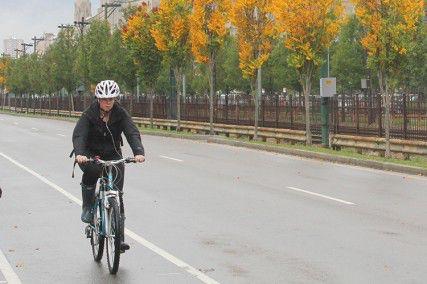 Boston University Parking and Transportation Services announced an updated version of their bicycle safety website on Thursday that gives cyclists at BU greater accessibility tools intended to assist bikers.
Jarrod Clement, a member of BU's Bike Safety Committee, said the site has been planned since 2008 and was finished in early fall.
"It [the website] serves as a primary resource for the BU community," Clement, one of the site's main architects and a Judicial Affairs administrative official, said. "It promotes a safe environment for cyclists and pedestrians within the BU community through education, awareness and infrastructure improvements."
In early October, BU officials pledged their support of Boston Mayor Thomas Menino's new Urban Cycling Guide, which was designed to reduce cycling accidents around the city.
The initiative is particularly relevant to BU. In November 2012, College of Arts and Sciences sophomore Chung-wei "Victor" Yang died in a collision with a bus on Commonwealth Avenue in Allston while riding his bicycle, and one month later, College of Communication graduate student Christopher Weigl died while riding his bicycle at the corner of Commonwealth Avenue and St. Paul Street when a tractor-trailer turning right from the left lane struck him.
The new site contains many of the same features as the old website, but the resources are meant to further engage cyclists in safety procedures, Clement said.
"The old website contained much of what's on the new one," he said. "It was tired-looking, honestly. It was antiquated. It needed some aesthetic dressing up, so we worked with creative services to develop a new, more modern interactive experience."
The main page of the new site features an accident toolkit, bicycle safety videos, news and events. The site also includes forms to register a bicycle, request a bicycle room or find a bicycle rack on campus.
Creators of the website hope the updates and changes will help students pay attention to bike safety and use their bicycles more safely, Clement said.
"We were primarily focused on relevant content and accessibility, so we kept it as simple as possible in terms of its design," he said. "I tried to make sure that timely, relevant content was right there at your fingertips and on the home screen."
Ben Goodman, president of the cyclist student group BU Bikes, said he values bike safety education on campus and is pleased with the creation of the new website.
"There is a general misunderstanding about what a bicycle represents and the way it should be treated," Goodman, a College of Arts and Sciences senior, said. "… A lot of those people who [misunderstand] are coming to the city, coming to the university, and they don't understand that in an urban environment and on the road, a cyclist needs to follow all the same rules that motorists do."
BU Bikes Secretary Oscar Huang, a CAS senior, said he hopes this new website will add to safety efforts across the Commonwealth.
"In Massachusetts, we're trying to build this cycling culture, and if you don't really have a solid bike safety law or a solid understanding from everyone, you can't really grow a cycling culture," Huang said. "Cycling, I would contend, is probably the fastest way to get around Boston, but with a growing amount of cyclists, there also needs to be legal concerns for that growth and also safety concerns."
David Miller, BU Bikes treasurer, said physical instructional bike safety resources would be more helpful to students than a website.
"Having something with you is a bit more convenient than having something to read online," Miller, a College of Engineering sophomore, said.
Miller said he hopes that people will take the time to look through the website and use the new resources, even if it may not be the most convenient option for everyone.
"Comm. Ave. is a very intense street, and it goes through all of campus," he said. "It's kind of like a small highway. [When] people go back and forth on it all the time, it becomes familiar, but for someone who is not familiar with the area, it can be quite scary, so you need to make these bikers aware."