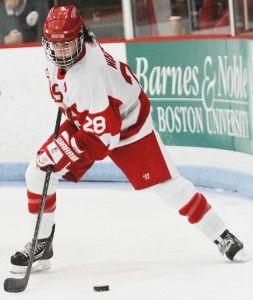 Returning from an eight-day layoff, the No. 9 Boston University women's hockey team will resume its 2013-14 campaign Tuesday night when the Terriers face off against Northeastern University at Matthews Arena.
This will be the second meeting between the Terriers (11-3-1, 7-0 Hockey East) and Huskies (7-9-1, 3-4-1 Hockey East) this season, as BU defeated Northeastern by a score of 3-2 in overtime on Oct. 29.
It was a sloppy game for the Terriers, who were called for seven penalties, but ultimately BU escaped Matthews Arena with a win thanks to a goal from senior captain Louise Warren 3:13 into the extra period.
After enduring a rough three-game stretch that saw them fall to then-No. 5 Boston College, No. 2 University of Wisconsin and St. Cloud State University, the Huskies have been able to right the ship, winning two out of their last three games against the University of Vermont and Dartmouth College.
The Huskies' offense has struggled this year with the loss of forward Kendall Coyne (68 points in 2012-13), as she will miss the season while playing for the U.S. Olympic Team in Sochi, Russia, in February 2014.
Coyne's absence has stymied Northeastern's attack, with the Huskies ranking seventh out of the eight teams in Hockey East with 2.12 goals per game. The Huskies are led by senior Katie MacSorley, who has recorded 15 points (nine goals, six assists) in 17 games.
After pulling off an eight-game winning streak from Oct. 26 through Nov. 15, the Terriers have gone through a tough stint, as BU has lost two out of its last three games to Wisconsin (12-2-2) and then-No. 6 Harvard University.
BU coach Brian Durocher said the extended break that his team had last week should help the Terriers refocus and regroup for their upcoming schedule, in which the Terriers play three games in five days.
"I'm always looking for the positive, and the positive is that the kids had a chance to spend a little bit of quality time with some families," Durocher said. "… [It's] a chance to just work on a couple of things as a team, and even just get a couple days of rest, so I'm hoping all of that stuff snowballs into a positive start. I'd like to think we're going to be ready to go and excited to play Northeastern."
While Durocher was unhappy with his team's effort in its last game against the Huskies, mostly due to the Terriers taking bad penalties, Durocher said he is focusing on correcting the mistakes the Terriers made in some of their latest games.
"In a couple of our most recent games, we didn't finish the game very well," Durocher said. "But if you can get a lead, you want to know how to not take your foot off the gas but also not make mental mistakes, and mental mistakes end up in less-than-good penalties, taking bad angles, giving out odd-man rushes and all those things were part of those couple of games."
As it has been all season long, senior goaltender Kerrin Sperry will be one of the biggest factors in BU's performance Tuesday. Sperry has again solidified her spot as one of the top netminders in the Hockey East this season, holding a 1.60 goals-against average and a .945 save percentage.
Sperry added yet another honor to her already extensive resume last week when she was named the Hockey East Defensive Player of the Week for the second time this season. This season, Sperry has not allowed more than three goals in a single game and is the only goalie in the conference with a GAA under 2.00.
For Durocher, the biggest key to a Terrier victory lies in the team getting contributions not only from Sperry, but from every position out on the ice.
"I think [the key factor is that] everybody does their own job," Durocher said. "If Kerrin Sperry does her job back in the net …  and our forwards play assertively and aggressively but also in a smart fashion, I think we stand a chance to do well over there."