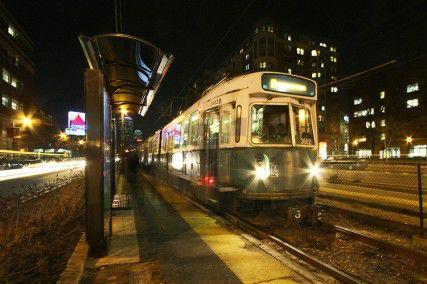 After years of demand from individuals and businesses, Boston's public transit will run until about 3 a.m. on Saturday and Sunday in a pilot program beginning in 2014, Mass. Gov. Deval Patrick announced on Tuesday night.
The Massachusetts Bay Transportation Authority has partnered with several private company sponsors in order to fund the extended hours, which will be tested in a one-year pilot program. The official start date is to be determined, and is intended not only to service the numerous workers with late shifts, but to also boost the region's economy as a whole, according to aWednesday press release.
"A vibrant economy demands a public transit system that caters to the residents, students and tourists it serves," Patrick said in the release. "Extending service on weekends and evenings will allow the public to enjoy the many attractions and restaurants the region has to offer, and give workers a more cost-effective option for getting home late at night."
Customers of the MBTA and many businesses have been asking for this program for several years, but until now it has not been possible, said Kelly Smith, spokeswoman for the MBTA.
"The MBTA is state-run and separate from the city budget, so this is going to be subsidized by sponsorships," she said. "That's where we were able to come up with a plan and a new idea. It is part of a bigger public-private partnership that we're exploring in other areas as well. This is another great example of that, having the private sector step up and that will be the majority of the financial sponsorships."
The Boston Globe is the first "Platinum Sponsor," contributing $500,000 to the program. There will also be several other businesses funding the program, which is expected to cost about $20 million a year, according to the release.
Smith said other similar attempts to hold late night service were unsuccessful, but this one will provide a larger system of travel options than ever before.
"We had the night owl service [in 2001], but that was just a bus service that did not prove to be financially viable, so we discontinued it," she said. "This will include subway, light rail and bus services on the 15 key bus routes in the city. We have to see how the program goes, but we certainly hope that it's successful and that we will be able to continue it. It's an idea that has seen its time come. We're growing, we're a young city and we're excited to be a part of it."
Some residents said although the extended hours are useful, they feel uneasy about how the price of transport could be affected.
KJ Green, 36, resident of Fenway, said he uses the subway daily and would definitely utilize the convenient mode of late night transportation.
"I'm used to having to find an alternate mode of transportation late at night, but I would definitely use it next year," he said. "A lot of people will use it, especially people who go out clubbing [or] bar hopping. It gives them a safe way to get home. I don't think the MBTA will be earning as much as they're putting into it, though."
Sherri Geller, 43, resident of Kenmore, said she only uses the MBTA during the daytime and was worried later service could lead to higher prices, even for those who are not utilizing the late-night service.
"It will be great for the city because there are a lot of students who like to be out later at night," she said. "I wish I knew whether the T as it's priced now will bring in enough money to cover it, or if the T prices will have to go up significantly even for the daytime riders. If the T prices as they are now can cover it though, it's a great idea."
Mariko Hisabda, 47, resident of Fenway, said she had no apprehensions about the program.
"If you're out late, it will definitely be nice to have that option," she said. "It will also bring down the number of cars in the city because people won't need to drive. It's a worthwhile investment. It's part of the infrastructure of the city. It's an investment in the future. As long as you have public transit, that's a great thing. It's one of the attractions of the city."