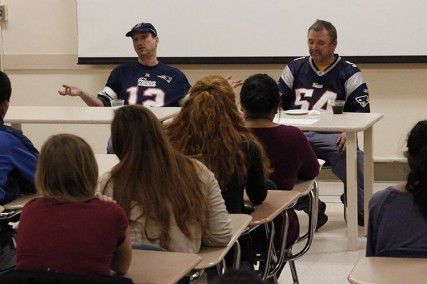 Boston University College Democrats and BU College Republicans co-hosted a presentation Wednesday night that would give students a different look at homeless individuals in order to spread awareness about the issue of homelessness.
The talk featured two speakers from the Massachusetts Faces of Homelessness Speakers' Bureau who shared their stories of being formerly homeless.
"It's a tough life," said speaker Peter Stewart, who transitioned from homelessness five years ago. "Seven days a week, 52 weeks per year, and I did that for seven years straight. I would go canning and collect them in a shopping cart [to get money] to go check out a job or have a good cup of coffee."
About 15 students attended the presentation in College of Arts and Sciences room 316.
Stewart said that working with case managers and social workers to get social security and disability money helped him get his own apartment, receive income and transition out of homelessness.
"I was blessed to be out of there [the shelter], out the door and in a place that's a home," he said. "It's nice not having to carry my backpack around ever [again]."
Stewart was recruited to be a speaker for the Massachusetts Faces of Homelessness Speakers' Bureau, which is a partnership between the Massachusetts Housing and Shelter Alliance, the National Coalition for the Homeless and AmeriCorps VISTA.
As a speaker, he wants to be able to teach and inform people about what homelessness really is and how to really help out, he said.
"People mistreat you, not you directly, [but] it's just the way they look at you," Stewart said. "One of the best things is not to turn away from [the homeless]. Offer to buy them a cup of coffee, or ask them what they need. It's the biggest conversation starter."
College Republicans President Mara Mellstrom said she reached out to MHSA to organize the presentation after discovering that BU Community Service Center officials have worked with MHSA before for First Year Student Outreach Project.
"We wanted to know what we could do, and hosting this was the way to go," Mellstrom, a CAS senior, said. "It's like an introductory 101 on homelessness. The bipartisan effort is good, too, because both groups are able to educate members."
College Democrats Vice President Lindsay Nicastro said that this presentation could help break clichés and harmful stereotypes about the homeless.
"People don't realize how easy it is to slip into homelessness and how hard it is to get out," Nicastro, a CAS junior, said. "You should put yourself in their shoes, and speak to [homeless] people to understand why they're there."
Sarah Samini, an intern with MHSA, said that homelessness is relevant to college students because change begins with this generation.
"Whatever a student believes in [politically], homelessness is an ethical and fiscal issue, and ending it is something very important," she said. "Ethically, everyone should be able to have a home, and fiscally, people are better off when they are off the streets."
Several students said the presentation fulfilled its intention of spreading awareness and motivating people to take action against homelessness.
Amber Muhammad, a CAS junior, said the speakers were thought-provoking.
"You get first-hand experience from people you don't usually get to talk to," she said. "They [the speakers] give you motivation and it really lights a fire to do something."
Sophie Miller, a CAS senior, said that she learned a lot about homelessness, specifically in Massachusetts.
"I was really surprised to hear that Boston is the Mecca of homelessness," she said. "I learned a lot about the kinds of resources available for homeless people in Boston and the high caliber they [these services] are."