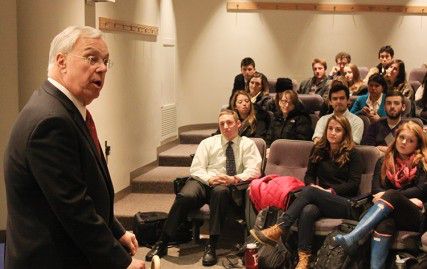 With less than one month until he is expected to leave office, Boston Mayor Thomas Menino gave his final major address as mayor to the Greater Boston Chamber of Commerce, and visited a political science class at Boston University on Tuesday, reflecting upon his 20 years as mayor and the changes he made to the city of Boston.
"If you asked me 30 years ago, I never thought I was going to be mayor," Menino said in an interview with The Daily Free Press. "I got into politics later than a lot of people, but once I did, I knew this is where I belonged."
Menino was elected Boston City Councilor for the Hyde Park district in 1983 and served that district for nine years, eventually becoming President of the City Council. When Mayor Ray Flynn accepted the position to be the U.S. Ambassador to the Vatican after U.S. President Bill Clinton's appointment in March 1993, Menino became acting mayor until the November election.
He decided to run for his own term, and won, securing his first mayoral bid. He regained his seat after each election, but onMarch 28, he decided to not seek an unprecedented sixth term.
"I've been mayor for 20 years and I've enjoyed every minute of it," he said. "However, I don't like the term 'legacy.' I accomplished many things during my terms, but there are things I could have improved. I just want to be remembered for helping to make a change in the city."
During his annual address to the Greater Boston Chamber of Commerce, he highlighted successes during his 20 years in office.
"The thing that makes a city most is change, the fact that something new is always just around the corner," Menino said. "It's change that attracts immigrants. It's opportunity that draws students. It's action that invites visitors. And it's progress in a city that compels neighbors to stay neighbors, and to stay here."
Some of the changes he noted were making Boston Public Schools one of the best urban school districts in the nation, building new housing, leaving the city with an estimated $200 million dollars in reserve, cutting crime in half, becoming a proud, majority-minority city and leading the way on same-sex marriage.
In 1996, one in four high school students passed the state math exams, but now approximately 90 percent do. 94 percent of BPS parents report that their child's school is a good or great place to learn, according to a Tuesday press release from the mayor's office.
Menino has also been an advocate for more affordable housing in Boston, especially with his Housing Boston 2020 plan that he released Sept. 9 to create 30,000 new housing units by 2030.
In addition to reflecting on the past 20 years in office in front of the Chamber of Commerce, he also took some time to come to BU and talk to students in a political science class titled The Politics and Policies of HBO's The Wire.
David Glick, professor of political science at BU and teacher of the class, said having Menino come into class and talk about his experiences as mayor helped the students connect the show to Boston.
"His relevance is obvious as the mayor of a large city," he said. "Certainly one of the themes of the show, and of the class, is leadership of urban politics. The ability to combine his real-world perspective and experience, his on-the-ground knowledge of the city to expose the students to that and see how that mixes with the much more theoretical and generalized approach to cities was really interesting."
Menino announced on Nov. 13 that once he concludes his tenure as mayor, he will be co-directing a new Initiative on Cities at BU with Graham Wilson, chair of the political science department.
"He has done a fantastic transformation in the city," Wilson said. "He's taken a stand on national issues, such as gun control and gay rights, and I think that is impressive that about 60 percent of people seem to have met him personally and he can go to any section, any neighborhood and know people."
Several residents said it is hard to fathom Boston without Menino in charge, but they have faith in Mayor-elect Martin Walsh to follow in his footsteps.
"He's [Menino] been mayor for almost half my life," said Reilly Margaret, 52, of the South End. "It's so hard to imagine someone else at parades, press conferences and just being the face of the city. Walsh has big shoes to fill and I hope he's up to the job."
Carl Blake, 36, of Boston, said Menino would be most remembered for his policies in education.
"He completely transformed the entire public school system and took Boston from a place with not very motivated students to global leaders in certain subjects," he said. "If he could do that in 20 years, I wish I could see what he could do in another 20."
Latoya James, 25, of Boston, said although she has not been around for much of Menino's era, she can still see the impact he has had on the city.
"I have had the chance to meet him," she said. "He is such a people's person, and is easily accessible when he's out on the street talking to residents, and actually wanting to hear their concerns. I just wish he was staying along longer, but I know Walsh will be able to do it. The transition will be seamless and I know because of Menino, the city is headed in the right direction."