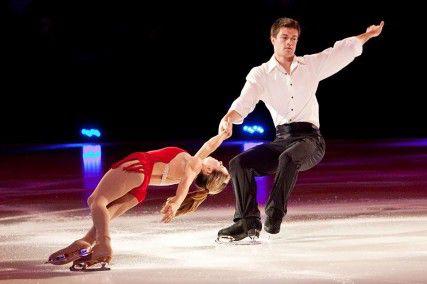 Boston University student Jimmy Morgan competed in the 2014 US Figure Skating Championships senior division at Boston's TD Garden Sunday.
Morgan, a College of Communication senior, competed in the pairs division with his partner Alex Shaughnessy. The championship, known as Nationals to many competitors, is a preliminary competition where the top scorers advance to represent the United States in the 2014 Winter Olympics in Sochi, Russia.
"This is our fourth nationals, so we kind of knew what to expect with all the big lights and the judges, but this one was extra special because we were at home and people could come see us and all our families were there," Morgan said. "I guess that kind of added to the pressure a little bit, but we just gave it the best we could. It was a lot of fun."
Although the pair did not place, getting to the senior divisions of Nationals and making an impression was their main goal, Shaughnessy, a 21-year-old student studying business management at Northeastern University, said.
"Our goal was to just show up and show them what we got," Shaughnessy said. "We wanted to make a big splash this year. Obviously, our first year we were not expecting a medal. We knew that going into this. We wanted to just be noticed and … tell the world that we're ready to be a senior pair team."
Morgan has been skating since he was four years old, beginning as a hockey player and eventually moving into figure skating. Although Morgan originally intended to be a singles skater, he entered into a partnership after his coach, Bobby Martin, noticed his height.
"He came to me as a student on his own, and I immediately saw that he was going to be a large, strapping young man and steered him into the direction of pair-skating pretty early on," Martin said.
In addition to being a supportive partner on the ice, Morgan is also a good friend to his partner during their downtime, Shaughnessy said.
"He's the best partner ever," she said. "So many partners get along and everything, but Jimmy and I are truly best friends. We'll text each other. Sometimes we'll go out together with our boyfriends. We tell each other everything — more things than I think we tell our significant others."
Martin said the connection Morgan and Shaughnessy share is evident in their performances on the ice.
"They have a great relationship, and they demonstrate that in the way they skate," Martin said. "They connect with each other really well. They're also very, very musical, which is an important thing."
Morgan, a public relations student, said he has had the opportunity to do media relations work for his rink as well as for Nationals.
"I originally did an internship with my rink and I got the chance to do some PR work for the national championships," Morgan said, "… That was a great experience, trying to get media hits, working on social media for them and doing all that stuff."
Morgan said he hopes to combine his major with his passion for figure skating in his future career endeavors. However, he does not intend to stop skating.
"My plan for right now is to keep competing after we graduate, because I graduate in May," he said. "I'd like to combine what I do in PR with what I do in skating. That would be the best of both worlds."