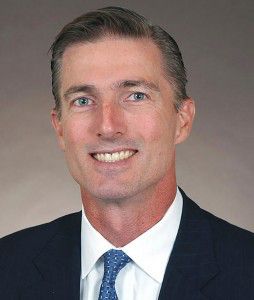 Since Mass. Treasurer Steven Grossman's announcement to run for governor, the pool of candidates to fill his seat in November has been rapidly shaping up.
Ending a four-term run in the legislature, Mass. Rep. Thomas Conroy announced his candidacy for the treasurer position on Thursday, adding to the pool of Democratic candidates that includes Brookline Selectman Deborah Goldberg and Mass. Sen. Barry Finegold.
The Massachusetts Republican Party plans to announce its candidate in the next few days.
"Our candidate for the treasurer office has not been announced yet, but we do have a candidate and we are happy and excited about our candidate and the public will be hearing from him hopefully in a few days," said Emmalee Kalmbach, spokeswoman for MassGOP.
Travis Schofner, a spokesperson for the Massachusetts Democratic Party, said he is excited about three Democratic candidates running for treasurer.
"They all bring a lot of different experience, and we're looking forward to the debate to be honest," he said. "It's going to be a very robust and healthy primary, and it's definitely going to show the voters what the candidates are bringing to the table."
David Guarino, a spokesperson for Conroy, said Conroy is not worried about the competition and is instead focusing on following through with a successful campaign.
"He's confident he will have the resources, and he has certainly got the right experience to build a winning campaign and be the best candidate for treasurer," he said.
Kalmbach said she believes MassGOP has a good chance with its candidate.
"We're definitely revamping our ground game," Kalmbach said. "We were taking a coordinated campaign approach and really applying that for this election cycle and we've already seen great success with it. We have strong candidates, and I believe they have a great chance."
Prior to his election to the state legislature, Conroy worked for 16 years in both the public and private sectors of finance for various companies. He has experience in the field of economic management and strategy that will give him an advantage in the election, Guarino said.
"[Conroy] has a wealth of experience in the legislature, in issues that directly impact the taxpayers and are part of the role and responsibilities of the treasurer's office and this unique experience will help ensure the state's long-term financial health and allow Massachusetts to expand education and job opportunities for everyone, particularly those still struggling on the margins," he said.
Guarino said he believes Conroy is up to the task because of his past experiences and his goals as treasurer. He has a vision of integrating economic justice and income inequality, as he sees those as the two biggest issues.
"The treasurer is really the financial steward for the Commonwealth," he said. "[Conroy] wants to ensure that the state's finances continue to be solid for the next generation and really allow us to invest in all these other programs that we know can work."
Schofner said he is hopeful for all the Democratic candidates and sees experience as one of their strongest elements.
"Voters will have the opportunity to discuss the qualifications of all the candidates," he said. "They're going to make those decisions on their own and we're looking forward to seeing that decision take place."