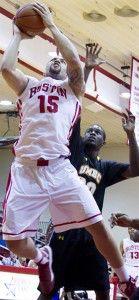 Embroiled in another close conference game Wednesday night, the Boston University men's basketball team emerged victorious, defeating Colgate University 66-58.
"They were terrific in non-conference play, by looking at their scores," said BU coach Joe Jones. "They've beaten Tulane [University] and they played Georgetown [University] well. I thought it was going to be a tight game — and it was. It was a great character win for us."
The win preserves the Terriers' (12-6, 5-0 Patriot League) unbeaten streak in Patriot League play, and gives them six wins in their last seven contests. Although the Raiders (6-10, 0-5 Patriot League) entered the game winless in conference, they came in with one of the highest team 3-point shooting percentages in the country, a sizzling 40.5 percent. Limiting open looks was a point of emphasis for Jones all week in preparation for the game.
"We went into the game talking about taking away their threes, but they really executed against our regular man defense," Jones said. "We wanted to play a little smaller because they're great on handoff ball screens. If we had played big, it would have hurt us."
BU began the game with a lackadaisical defensive approach that resulted in an early 9-4 deficit. On multiple occasions, forward Murphy Burnatowski, one of the Raiders' top scoring threats, got loose for open jumpers. Burnatowski scorched the Terriers for nine of his 27 points in the first five minutes of the first half. As the action progressed, however, the Terriers remained calm and began to adhere to their defensive game plan.
After the first nine minutes of the game, the Raiders shot only 37 percent from the field and a measly 30.4 percent from beyond the 3-point arc. The superb defensive effort was paced by junior forward Malik Thomas and senior guard Travis Robinson. Robinson departed from his normal role on the bench to start in place of injured senior guard D.J. Irving. Tasked with guarding Colgate's leading scorer, guard Austin Tillotson, Robinson did an admirable job, holding him to four points on just 2-for-9 shooting. Thomas came off the bench to hold the Raiders' rangy center Ethan Jacobs, a career 40 percent 3-point shooter, to 0-for-6 from the 3-point line.
The Terriers struggled offensively in the first half, unable to find a rhythm outside of the paint. BU's bench, normally consistent in relief, shot just 28.6 percent from the field in the first half. In his new starting role, Robinson struggled offensively in the first half, going 0-for-3 from beyond the arc. BU went into halftime trailing the Raiders 27-25.
"They really packed it in defensively and without [Irving] who can penetrate, they really hurt us offensively," Jones said about Colgate's defense. "With [freshman guard] Cedric [Hankerson] in foul trouble and D.J. [Irving] hurt, we just didn't have someone who could do some things off the bounce for those twenty minutes."
The second half proved an entirely different story for the Terriers, though, as they shot the Raiders right out of the gym. The team combined to go 13-for-22 from the field and 5-for-6 from 3-point range. Sophomore guard Maurice Watson Jr., remained true to form, putting up a team high 20 points on 7-of-14 shooting, while pacing the offense with six assists. Hitting crucial baskets in the closing minutes, Watson had one of the most important performances of his career in Irving's absence.
"We try to put the ball and the game in [Watson's] hands and allow him to direct the offense," Jones said. "He made some tough shots down the stretch, and if he doesn't make some of those shots, it could be a completely different ballgame."
With this victory over Colgate, BU is one of only two teams left with a perfect record in Patriot League play, the other being American University.