The Boston University men's basketball team will look to continue its winning ways and establish dominance over Patriot League opponents when it takes on American University in Washington, D.C., Wednesday night. Both the Terriers and the Eagles remain unbeaten in conference play, meaning the victor of the matchup will take sole possession of first place in the Patriot League.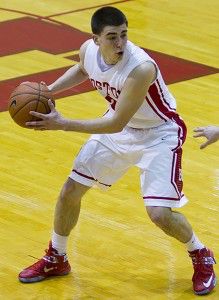 The teams enter the contest both riding winning streaks, as BU coach Joe Jones' Terrier squad (13-6, 6-0 Patriot League) is unbeaten in 2014 and has yet to drop a league game in the new conference. The Eagles (10-7, 6-0 Patriot League) are also undefeated in Patriot League play and have won their last seven games overall.
Monday night, American pulled out a close 66-61 victory over Lafayette College. Guard Darius Gardner led way for the team with 13 points, seven rebounds and six assists. Guard John Schoof was a force on offense as well, and added a team-high 16 points.  Off the bench, forward Marko Vasic was crucial on the glass, grabbing seven boards.
Eagle coach Mike Brennan has his team run the "Princeton Offense," which emphasizes constant passing and quick ball-movement. This offensive style has contributed to American's balanced offensive attack.
Gardner, Schoof, center Tony Wroblicky and guard Jesse Reed are all averaging over 10 points per game. American also ranks ninth in the NCAA in team field goal percentage. From behind the 3-point arc, the Eagles have been solid, putting in 34.4 percent of their buckets from that range. Controlling the American offensive threat will be a point of emphasis for the Terriers as they game plan for tomorrow's game.
"We're going to need to focus and be in the right places," Jones said. "It's a very intricate offense. They run it especially well. It's going to be really important for our guys to lock in and defend for the whole game."
BU has also established its own unique offensive style with the 1-2 punch of sophomore guard Maurice Watson Jr. and senior guard D.J. Irving.
After missing last week's win over Colgate University due to an ankle injury, Irving made his return to the court Monday night against Loyola University-Maryland, coming off the bench to score 14 points, while making two late 3-pointers to help the Terriers down the Greyhounds (8-9, 3-3 Patriot League). Having Irving back will mean more scoring, as he is second on the team with 11.8 points per contest.
Jones said having Irving at full health will be instrumental to the team's success as it moves forward through the rest of the season.
"That's a big key," Jones said about having Irving in the lineup. "We feed off of him. He's one of the most unselfish kids I've ever coached. We go how he goes."
The other half of the guard combination has been just as important. Watson has hit 53.5 percent of his field goals, good for 60th in the NCAA rankings in that category, while averaging a team-high 14.8 points per game.
Sharpshooting sophomore guard John Papale has been a welcome source of offense for the Terriers as of late as well. In BU's last three games, Papale has averaged nearly 13 points per contest, and always is a threat to hit from the outside.
BU will also attempt to establish senior forward Dom Morris in the post. Morris is putting in a career-high 11.6 points per game to go along with 6.4 rebounds.
Although the game will have considerable implications in terms of the Patriot League standings, Jones said he is not trying to place too much focus on the matchup.
"I try not to pay too much credence to one game over the next," Jones said. "We can't make this game bigger than it needs to be. We're going to approach it the same way we approach every game."