The Boston University men's hockey team has been much maligned by the injury bug this season, but it is inching closer and closer to getting some bodies back.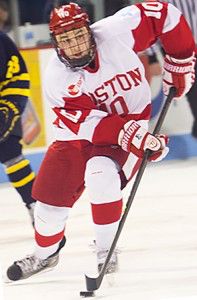 Senior wing Jake Moscatel, who has been out with a lower-body injury since Jan. 4 at Harvard University, is likely to play this weekend when No. 17 University of Vermont visits Agganis Arena for a two-game set.
Sophomore defenseman Ahti Oksanen and junior forward Evan Rodrigues were both day-to-day as of Tuesday, making their status against the Catamounts (12-8-3, 4-6 Hockey East) less clear.
In addition, sophomore center Danny O'Regan, BU coach David Quinn said Saturday, has been playing through a nagging, undisclosed injury he suffered while representing the United States in the World Junior Championships in Sweden last month.
"It's a tough time," Quinn said Saturday. "Sometimes teams have seasons like that, and we happen to be going through that right now."
BC backslide
One step forward, two steps back.
That seemed to be the story of BU's (7-13-2, 2-7-1 Hockey East) weekend when, after staying competitive in an eventual loss to No. 2 Boston College Friday, it was outshot 42-12 at the University of Massachusetts-Lowell the next night.
The difference in level of competition, Quinn said, was inevitable
"I thought that we were going in the right direction [after the BC game]," Quinn said. "But sometimes after BU-BC game there's a little bit of a letdown no matter what the records are, no matter what the situation is."
The Eagles swept the regular-season series over the Terriers, but BU has one more shot at their archrival. The teams will face off in the first round of the Beanpot, Feb. 3 at TD Garden.
BU beat BC (16-4-3, 10-1-1 Hockey East) in two out of four chances during the 2012-13 season, including the matchup in the Hockey East semifinal round.
Around Hockey East
BU is hardly the only Hockey East squad with surprising results this season, but two others that come to mind are surprising for a different reason.
BU is 10th in the conference standings — second-to-last — but No. 11 Northeastern University and Vermont have exceeded expectations most had for them at season's start.
The Huskies (14-7-3, 74-1 Hockey East) sit in second in Hockey East play, while the Catamounts are seventh at 4-6 in the conference.
To put Northeastern's success in simple terms, they are getting big-time contributions from four players.
Sophomore Kevin Roy, who BU fans may remember for his hat-trick performance against the Terriers in last year's Beanpot, leads the team with 30 points (14 goals, 16 assists). Freshman Mike Szmatula (nine goals, 18 assists) and senior Braden Pimm (15 goals, 10 assists) are not far behind him in point totals.
Junior netminder Clay Witt has seen a revitalization in his career during his first season as the starter goaltender. His save percentage (.943) is good for second in Hockey East, while his 2.09 goals-against average is tied for sixth in the conference.
To no one's surprise, BC is leading the conference — and could very well run away with it. The Eagles lead the Huskies by six points.
BC's most productive line — that of junior Johnny Gaudreau, senior Bill Arnold and senior Kevin Hayes — has been unstoppable since uniting last month. In nine games, the threesome has combined for 58 points (22 goals, 36 assists) and a plus-46 rating.
Gaudreau, Hayes and Arnold rank first, second and tied-fifth in the country in points per game, respectively.
Here and there
Forward Sam Kurker, who left BU earlier this month after a season and a half as a Terrier, officially joined the Indiana Ice of the United States Hockey League. Former Terrier Mike Sullivan was named the interim coach of the Vancouver Canucks on Tuesday. John Tortorella, the team's head coach, is suspended 15 days (six games) for an in-game incident over this past weekend. Sullivan coached the Boston Bruins for two games last decade.