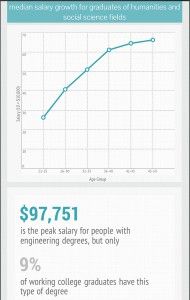 Students with liberal arts degrees from schools such as Boston University are likely to see a solid return on investment as their careers progress, according to a new study released Wednesday.
"A good liberal arts education trains the student to think in creative ways, to questions everything, learn close reading and writing, analyze data, synthesis, analyze information in rigorous ways and ask questions in rigorous ways," said John Mackey, a professor of social sciences at BU's College of General Studies.
The study, which was conducted by the Association of American Colleges and Universities, tapped into the United States Census Bureau 2012 American Community Survey to explore how the salaries of those with liberal arts degrees compared to those in professional and pre-professional degrees compared during peak earning ages.
"Students who are considering majoring in liberal arts as undergraduates can know that they are employable after they graduate and, in the long term, would have more significant earnings than those who just majored in the professional or pre-professional fields," said Carrie Johnson, a spokesperson for the AACU.
While those with professional and pre-professional degrees working in the humanities and social sciences fields initially earned around $5,000 more than those with liberal arts degrees directly after college, liberal arts majors earned approximately $2,000 more than those without during peak earning ages, Johnson said.
"People tend to think that the social sciences and humanities are narrow in scope… but in fact, social sciences graduates learn a range of skills and ways of thinking that are broadly applicable. Graduates go onto careers in law, politics, entertainment, broadcasting and a range of business careers."
Mackey said studying social sciences and humanities is vital to gaining a full perception of how the world has changed in order to understand what might happen in the future.
"Social sciences help us understand how the societies we live in work and function and where they came from," Mackey said. "…Social sciences really help us understand systems, which are really important. Economic systems that shape the way we live, political systems, systems of social, racial, gender stratification have a huge impact on the way we live."
Jeffrey Volpintesta, a College of Arts and Sciences junior, said liberal arts degrees are beneficial in that they teach students how to think critically and adapt to a variety of career fields.
"While you don't learn a specific set of skills, like say a computer scientist would learn how to code software, a liberal arts major, depending on what it is your studying on the whole, teaches you how to learn and how to adapt," he said.
Sargent College of Health and Rehabilitation Sciences junior Lindsey Petro said a liberal arts background is not necessary for people like her who are pursuing medical careers.
"I want to go into something related to the medical field so that's not really what my education is about," Petro said. "For someone wanting to go into the medical field, it's not really useful. It's good to have a more well-rounded education … but I don't see the purpose in very specialized field."
Shane Hennessey, a CAS junior, said while there is bias against the value of a liberal arts degree, he believes it will be relevant to his future in environmental sciences.
"I know some people have that stigma against the whole liberal arts degree, but I think some people really do value it," Hennessey said. "The more general requirements I'm taking now will definitely apply to my career."
Sophia Goldberg contributed to the reporting of this story.