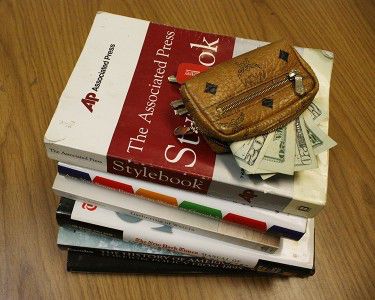 As students settle into their new schedules, they also face the bi-annual torture of emptying their wallets for a fresh set of textbooks. With the price of textbooks creeping up to record highs, students are looking for ways to save money this spring.
The price of textbooks has increased more than 69 percent in the past 15 years, according to University of Michigan-Flint economist Mark Perry, and students are feeling the financial strain.
"It's an extra cost that no one talks about, but it's a pretty significant cost," said College of Arts and Sciences senior Tarif Ahmed. "My freshman semester was the only semester I bought my books from Barnes & Noble and I think it was, like, a $700 bill. That's unreasonable, in my opinion, when you're already paying so much to go to school."
In his four years at BU, Ahmed has developed more than one system to keep his money out of the major retailers. If he can find the book for $10 or less on Amazon, he buys it before class, but otherwise he leans on reserved books in Mugar Memorial Library.
"Oftentimes though I've resorted to saying, hey I can't afford the textbook," Ahmed said. "Say it's a $50 science book, I will offer someone $10 to borrow it for a day and scan in the readings from the syllabus."
For students who aren't as frugal as Ahmed, Amazon offers an easier solution. Brittany Turner, an Amazon spokeswoman, said overall the site strives to keep the prices as low as possible.
"Our mission at Amazon is to offer customers the lowest possible prices on millions of products, including textbooks," Turner said in an email. "We're heads-down focused on this mission, and when we find savings we pass them on to the customer."
"Fundamentals of Fluid Mechanics," the required textbook for ENG ME 303, according to StudentLink, retails $246.65 new and $185 used at the BU bookstore, with the option to rent for $160.30 and $111, new and used respectively.
The same book retails for $174.22 new and $140 used on Amazon, with an option to rent for $97. That's a 30 percent increase from Amazon to on campus bookstores.
Despite the price difference, some students keep going to the on campus store, if only because they know the book will be correct.
"It stinks for students because we want to go to BU bookstore so you can get the exact book your professor assigns," said College of Communication senior Alex Shadrow. "BU gets me to go there even though it's a high price because I don't want to buy the wrong book."
As a COM student, Shadrow said she isn't too weighed down by costs, but when she was taking general requirements in the College of General Studies she was regularly spending $200.
"Were paying so much for a class and for this book that were only going to use for three readings, sometimes I feel like they make us get books that aren't really used," Shadrow said.
However, not all professors are expecting students to break the bank, William Pellegrini, a CAS sophomore, was given an iPad to use for his chemistry class. As a result, he paid $75 for his course materials, only a portion of which was for the e-book.
"I basically got the book for $20," Pellegrini said. "It would have been $203 at the bookstore."
In the past Pellegrini has bought from the BU bookstore for convenience, but has been looking for more reasonably priced options. Trolling Facebook and former classmates is a standard, but new loose-leaf versions of textbooks still retail for significantly less than a hardcover. Knowing he likes the interactive features of an e-book expands his options and can keep the price low, and an e-reader isn't always so cheap.
"But now I'll have to return [the iPad after the chemistry class is over]," he said. "I definitely will have to buy one now, so that will be at least three textbooks of money."
Lauren Dezenski contributed to the reporting of this article.