1. Boston College – The Eagles are looking for better goaltending, but their offense is so good that it should not matter too much. BC (4.48 goals per game) averages more than a goal per game more than the next-best Hockey East team (Notre Dame, 3.28) thanks to the work of its first line. Forwards Johnny Gaudreau (22 goals, 28 assists 50 points), Kevin Hayes (19-26-45) and Bill Arnold (8-28-36) are the top-three point scorers in the league. Throw in one of the best defensive units in the Hockey East as well as some solid secondary scoring and BC should have no trouble winning the conference's regular-season title.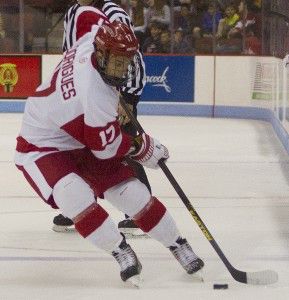 2. University of Massachusetts-Lowell – Coach Norm Bazin's squad had a bit of a rocky start, but it has used its league-best team defense (1.96 goals against per game) to return to its form from a year ago. A balanced scoring unit led by senior Joe Pendenza (12-9-21) has been good enough to help the best goaltending tandem of senior Doug Carr and sophomore Connor Hellebuyck to the second most overall wins in the league (16).
3. Providence College – Providence started the season as the team to beat in Hockey East, but it has cooled off as of late. Losses to Northeastern University, BC and Lowell in the past month, as well as the slowing down of leading scorer Ross Mauermann (four points in his last seven games after scoring 27 in his first 19) have been a part of that cooling. Still, Mauermann and goaltender Jon Gillies are among the best players in the league and are capable of carrying the Friars deep into the postseason.
4. Northeastern University – It might be time to finally start buying into Northeastern's success this season. Goaltender Clay Witt is making a case for himself as a Hobey Baker Award candidate thanks to his incredible .943 save percentage and 2.04 goals-against average. A crew of dynamic young scorers featuring sophomore Kevin Roy (14-17-31) and freshman Mike Szmatula (10-18-28) lead the Huskies offense, but its 35.31 shots-against per game is the second-worst in the league and could come back to bite them in the butt this postseason.
5. University of Notre Dame – Notre Dame has the best special teams in the league (plus-17) and the best shot differential in the league (plus-8.88 shots per game), but it has been inconsistent in Hockey East play. The Fighting Irish have at least one loss or tie against every Hockey East team it has faced this year, losing to the likes of the University of Massachusetts-Amherst and tying Merrimack College. There is not much separation between the fifth-best and second-best teams in Hockey East, though.
6. University of New Hampshire – UNH is right in the middle of the pack in terms of scoring offense and scoring defense, so it finds itself right in the middle of the pack of these power rankings, too. What separates UNH from teams like Maine and Vermont is the fact that it doesn't beat itself, as it has the fewest penalty minutes per game in the league.
7. University of Vermont – Vermont is a top-heavy scoring team that relies on captain Chris McCarthy (13-14-27) and freshman Mario Puskarich (11-12-23) to lead its offense. Its big veteran squad gives it the ability to stay in any game with any team, but it may not have the depth and skill to be a serious contender come tournament time.
8. University of Maine – Boston University knows better than anyone that Maine has the ability to put lots of goals on the scoreboard, as it scored seven times in each contest against the Terriers. Goaltender Martin Ouellette has come into his own and has performed like a top-level goalie this year, maintaining a .930 save percentage and a 2.08 goals-against average this year as well. Sophomore Ben Hutton leads the league in defenseman goals (nine) as well.
9. Boston University – The Terriers' shot differential woes (minus-10.38 per game) have been well documented and the team has lost eight of its last ten games, but the return of junior forward Evan Rodrigues to the lineup could help BU pull together a couple more wins as the regular season comes to a close. Injuries and youth have put BU among the worst teams in the league this year, and fans should not expect much change once the Hockey East Tournament comes around.
10. University of Massachusetts-Amherst – UMass has the most losses in the league (16), and for good reason. It is tied for the most goals allowed (82) on the season and does not have much going for it in terms of dynamic scorers. The fact that it only has one player with a positive plus-minus rating is representative of how little success it has had this season.
11. Merrimack College – Forwards Mike Collins (8-10-18) and Brian Christie (4-7-11) have double-digit points, but nobody else on Merrimack's roster has more than nine points. Merrimack's goaltending has not even been that strong, as Rasmus Tirronen only has a .915 save percentage in 17 starts. The Warriors just split the weekend with Amherst, showing that there is not much distance between the bottom two or three teams in the league.