After two tough road contests, the Boston University men's basketball team is preparing for its return to Agganis Arena where the Terriers will face off against the U.S. Military Academy Wednesday night.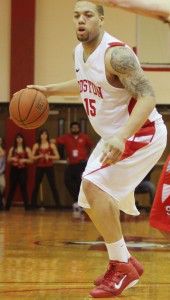 The Terriers (14-7, 7-1 Patriot League) are hoping that their 64-61 win against Bucknell University last Saturday will be the start of a new winning streak after its six-game unbeaten run ended with a loss to Patriot League leader American University on Jan. 22.
The Black Knights (10-9, 6-2 Patriot League), who sit behind BU at third place in the Patriot League, will aim to rebound after a 84-74 loss to the first-place Eagles (12-7, 8-0 Patriot League) this past Saturday.
Army brings in a strong offense, leading the conference in scoring at 74.1 points per game. The Black Knights demonstrated how proficient its offense is against American, hitting 45.2 percent of their shots in the second half.
While the Eagles lead the league in total defense, conceding 60.8 points per game, the Black Knights managed to score 44 points against them in the second half alone. Army guard Kyle Wilson had 27 points, shooting 7-for-15 from the floor, and 4-of-5 mark from 3-point range.
Wilson leads the team and is second in the conference in scoring with 19.2 points per game. The Black Knights were also lifted by the play of forward Tanner Plomb, who contributed 12 points and 7 rebounds.
American made up for its subpar performance on defense on the other end of the floor, where the Eagles converted 10 3-point attempts. Four of those came from guard John Schoof, who finished with a team-high 22 points. American also excelled near the basket, where senior Tony Wroblicky had a strong outing, finishing with 19 points, eight rebounds and five blocks.
On the same day, sophomore guard Maurice Watson Jr. and senior forward Dom Morris led the Terriers over the Bison (9-10, 4-4 Patriot League). Watson had 12 points, eight rebounds and five assists, while Morris scored 12 points and grabbed nine rebounds.
BU dominated most of the game and at one point led by 20 points, but Bucknell scored nine- straight points in the final few minutes to make the contest close. However, sophomore guard John Papale made crucial free throws at the very end to seal the win for the Terriers.
"It was a big win," said BU coach Joe Jones. "It was a character win. I had no doubt that we were going to play well on Saturday, there was no question in my mind. I know these guys. When you catch their attention, they perform.
"My job is to catch their attention, keep them focused. When they're focused, they're very good. For 34 minutes we played very good basketball. Then we lost our focus and they took it to us. But it was a great character win, on the road, in probably the toughest venue to play at in the conference, sold out arena, after getting blown out, seven-hour drive, it was a big-time win."
Watson and Morris have been stout for the Terriers all season. Between the two, they lead BU in points, assists, rebounds, steals and field goal percentage.
On the defensive side of the ball, the Terriers will not only have to look out for Wilson, but also have to keep an eye on sophomore Kevin Ferguson. The Berkeley Heights, N.J., native is ninth in the conference with 5.3 rebounds per game, second in shooting with a field goal percentage of 60.9 percent and second in blocks with 1.9 per game.
Jones insisted that there are multiple areas in which the Terriers have to focus on in order to win.
"I think the big thing is we have to play with unbelievable confidence … because [Army] plays hard," Jones said. "They really, really compete. We're one of the top teams in defensive field goal percentage. We're one of the top schools in rebounding. If we can defend and rebound [Wednesday] night, everything else will take care of itself.
"The other thing we have to do is consistently take care of the basketball and get the shots that we want. If we do a good job of that, we're going to be in great shape. [Army] is very good, they are talented."