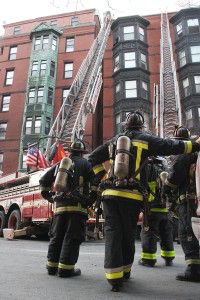 A fire broke out at 31 Massachusetts Ave. at 2:05 p.m. on Saturday, ringing seven alarms and forcing the evacuation of all 30 apartments in the building.
No civilians were injured in the fire, which began in a rear apartment on the fifth floor. One firefighter was sent to the hospital for smoke inhalation, said Boston Fire Department spokesman Steve MacDonald.
Boston Mayor Martin Walsh and BFD Deputy Chief Joseph Fleming answered questions at the scene.
Fleming said the fire department needed multiple crews of firefighters to tackle the fire, due to the conditions inside the building.
"They really did a nice job attacking that fire aggressively to keep it to the apartments they did, but it's very taxing," he said. "Think of yourself putting on 150 pounds of ski equipment and then instead of doing it on a snow mountain you're doing it in 150-degree temperatures in the desert. And that's sort of what these guys have to do. So they can only do it for 15 to 20 minutes at a time."
The apartment building had sprinkler systems in the common areas, such as stairways and hallways, but there were no sprinklers in the individual apartments, MacDonald said.
As a result of this fire, Walsh said he hopes to identify other buildings without full sprinkler systems and file legislation that will force all buildings to have complete sprinkler systems.
"The chief informed me, as I was walking up to the scene, that when the legislation was done to make sure that we put sprinklers in all the buildings in Boston, there [were] some exemptions," Walsh said. "This is one of the cases of exemptions, so we're going to look at this now and talk to the legislature and see if we have to file something to catch these other buildings [that do not have sprinklers]."
Walsh said he is proud of the City of Boston for helping their neighbors and offering their homes to the people who have been displaced by the fire.
"They [the firefighters] did an incredible job here," he said. "Certainly, we don't always see the firefighters out there when there's no fires, but when there is [a fire], you pick up the phone, you make the call and they come." 
Maya Devereaux contributed to the reporting of this article.